Any questions you want to practice should be geared towards your reliability, teamwork, and ability to follow instructions. Various power plants and construction buildings should also be looking for motivation and enthusiasm for the specific position. You need to know some of the most common questions asked in interviews.
Read the full article of Pritish Kumar Halder and get enough knowledge about the pipefitter's interview.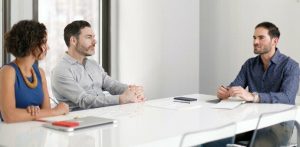 File Name: People-office-Recruitment
Alt-Text: people sitting in the office for an interview
Try practicing some of these common Pipefitters' job interview questions:
 What are the different types of pipe fittings based on end connections?
How to answer:  Interviewers may ask this question to assess your basic understanding of pipe fittings. You can respond to the question by naming the common types of end connections a pipe can have.
Answer:  "The major types of pipe fittings based on end connections include screwed end, beveled end, buttress end, socked weld, and spigot socket fittings."
How is a pipe different from a tube in terms of construction and applications?
How to answer:   Interviewers may try to learn whether you can distinguish between a pipe and a tube. Highlight the major differences in terms of shape, construction, and applications to show clarity in your answer.
Answer:  "Although people often use these terms interchangeably, there're some key differences between pipes and tubes. Pipes are always round in shape, whereas tubes can be round, square, or rectangular. Pipes are hot rolled and are mostly used for transporting fluids and gases. The most important measurement for pipes is in terms of their volume capacity for material that can flow through them. On the contrary, tubes are for structural applications. Due to this reason, outer diameter is the most important measurement for them. You can hot or cold roll tubes. You can also galvanize both pipes and tubes."
What are high point vents (HPVs) and low point drains (LPDs)? Why do we use them in a piping system?
How to answer:  This question seeks to test your knowledge about tapping pipe systems. Although HPVs and LPDs are simple concepts, it's essential to convey your understanding clearly and concisely. Explain their usage in a piping system without delving into lengthy details of how they function.
Answer:   "A tapping connection with a topside open end is called a vent, while one with a downside open end is called a drain. A piping system can have several vents and drains. The vent at the highest point of the system is called an HPV. It helps to remove air from the piping system and prevent the reduction of pressure. An LPD is the opposite of an HPV in that you install it at the lowest point of the piping system. It helps drain water from the system after conducting a hydrostatic test."
Not every question you will encounter when interviewing for a Pipefitter's position will be related ta o construction service supportive job. But those are the common topics interviewer can ask for selecting qualified candidates.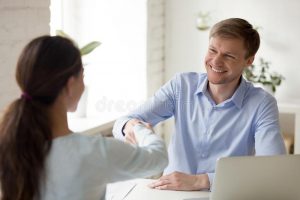 File Name: People-office
Alt-Text: Two People hand shaking in the office
Best Pipefitter's Interview Preparing Service
If you're feeling overwhelmed by the questions mentioned above, we get you. However, don't fret as you have Pritish Kumar Halder by your side. I am Pipefitter's job expert with special skills and help people prepare for all types of Pipefitter's job interviews. Whether you need assistance in answering advanced Pipefitter's interview questions or core Pipefitter's interview questions, I can help you with all.
Get in touch for more information!
Composed by: Suma Sarker
Reference: