If you love the outdoors, nature and animals, and are curious about how creatures contribute to our environment, then you'll probably be very intrigued by honey bees. If you like the idea of harvesting your own honey, and farming on a small scale, then chances are you'll enjoy being a beekeeper. Read the full article by Pritish Kumar Halder
Also known as apiarists, beekeepers raise and care for honeybees for agricultural and commercial purposes, such as crop pollination and honey production. They construct and clean hives, induct wild swarms, splitting colonies, collect honey, and ensure the overall health of the hive.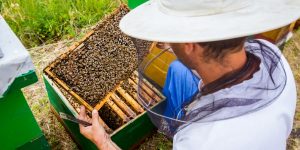 File Name: Beekeeper – colonies of honey bees
Alt-Text: Beekeepers must wear special protective clothing such as veils, gloves, and suits.
Beekeepers' salaries vary depending on their level of education and experience, the size of the bee colony they manage, and the geographic location of their job. Median Annual Salary: $36,000 ($17.31/hour), Top 10% Annual Salary: $57,500 ($27.64/hour). The employment of beekeepers is expected to decline over the next decade.
Beekeepers' Interview: the Basics
Declines in honeybee colonies have led to increased demand for commercial pollination services, which will provide some employment growth for beekeepers. However, the need for these services may be met by wild bees and other types of pollinators, such as bats and birds, rather than by commercial beekeepers.
To ensure success as a beekeeper, you should have a passion for beekeeping, the ability to stay calm under pressure, and a desire to work outdoors. Ultimately, a top-class beekeeper maintains healthy hives and produces high-quality honeybee products.
If you want to become a professional beekeeper, you'll need to have a strong understanding of honey bees and their biology. A master's or Ph.D. degree related to beekeeping can be pursued in areas such as agricultural management and entomology. You'll also need to be able to manage hives safely and effectively. This requires training and experience.
List of Topics to Prepare
The level of the interview will directly depend on the experience you have, followed by the qualification and work skill. However, if the candidate is an experienced person, the process can tricky and technical to test the applicant's true abilities. There are many concepts that the interviewer can question you about, it usually revolves around these topics:
Knowledge of high school diploma or GED.
Knowledge of degree in zoology or animal science preferred.
Understanding of proven work experience as a beekeeper.
Excellent knowledge of plant and animal biology.
Ability to remain calm in stressful situations.
Basic woodworking skills.
Ability to lift heavy objects.
Ability to work flexible hours.
Understanding of working unsupervised.
Ability to work outdoors in all weather conditions.
Experience of volunteering at a local beekeeping association or organization
Reading books and articles about bees and beekeeping, watch videos, and attend lectures and presentations.
When interviewing for Back-end developer's interview position, your interviewer will ask questions to assess your perform in regional knowledge and experience. The answers you give can be a deciding factor in whether you receive a job offer.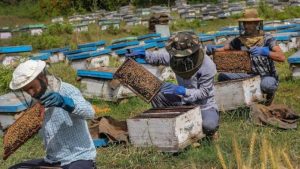 File Name: Beekeepers – commercial production farms.
Alt-Text: Declines in honeybee colonies have led to increased demand for commercial pollination services, which will provide some employment growth for beekeepers.
Learn More about the Job                         
Anyone serious about landing a job or acing Beekeepers' job interview should have adequate knowledge about the concepts mentioned above. More importantly, the applicant should know what kind of company they are applying to and the nature of the job to prepare accordingly.
However, if you feel overwhelmed, get in touch with Pritish Kumar Halder to help you nail the interview. With his expertise in Beekeepers' interview preparation, from core Beekeepers' interview questions to advanced Beekeepers' interview questions, you'll have brilliant responses ready.
Get in touch with us today!
Composed by: Suma Sarker
Reference: