Pipefitters plan, install and maintain pipe systems and supports as well as hydraulic and pneumatic equipment. This includes securing pipes to walls and fixtures and often involves spending long periods of time in hot and confined spaces.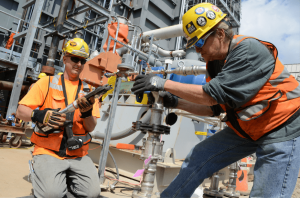 File Name: Pipe fitters – power plants
Alt-Text:  Fitters install and repair pipe systems in power plants, as well as heating and cooling systems in large office buildings.
Most pipe fitters learn on the job through an apprenticeship. Some attend a vocational-technical school before receiving on-the-job training. Most states require plumbers to be licensed. Employment of plumbers, pipefitters, and steamfitters is projected to grow 5 percent from 2020 to 2030, slower than the average for all occupations.
Prepare for Pipe fitters' Interview by reading a list of topics to prepare and more about a job with Pritish Kumar Halder
Pipefitters' Interview: the Basics
To be successful as a pipe fitter you should have ample experience in welding and installing pipe systems according to specifications. Ultimately, a top pipe fitter has excellent mechanical skills and a good understanding of the requirements and precautions necessary for working with pipes conveying dangerous chemicals and liquids.
A high school diploma or equivalent is typically required to become a plumber, pipe fitter, or steamfitter. Vocational-technical schools offer courses in pipe system design, safety, and tool use. They also offer welding courses that are required by some pipefitter and steamfitter apprenticeship training programs.
List of Topics to Prepare
The level of the interview will directly depend on the experience you have, followed by your qualification and work skills. However, if the candidate is an experienced person, the process can tricky and technical to test the applicant's true abilities. There are many concepts that the interviewer can question you about, it usually revolves around these topics:
Knowledge of most plumbers learns their trade through a 4- or 5-year apprenticeship.

Knowledge of technical instruction including safety, local plumbing codes and regulations, and blueprint reading.

Experience of apprentices also study mathematics, applied physics, and chemistry.

Some states require pipefitters and steamfitters to be licensed; they may also require a special license to work on gas lines.

Prepare cost estimates for clients

Read blueprints and follow state and local building codes

Determine the materials and equipment needed for a job

Install pipes and fixtures

Inspect and test installed pipe systems and pipelines

Troubleshoot malfunctioning systems

Maintain and repair plumbing systems
When interviewing for a pipe fitter's interview position, your interviewer will ask questions to assess you're performperiods in regional knowledge and experience. The answers you give can be a deciding factor in whether you receive a job offer.
File Name: Pipe fitters – construction building
Alt-Text: Pipefitters may use different materials and construction techniques, depending on the project.
Learn More about the Job                         
Anyone serious about landing a job or acing pipe fitter's job interview should have adequate knowledge about the concepts mentioned above. More importantly, the applicant should know what kind of industries they are applying to and the nature of the job to prepare accordingly.
However, if you feel overwhelmed, get in touch with Pritish Kumar Halder to help you nail the interview. With his expertise in pipe fitter's interview preparation, from core pipe fitter's interview questions to advanced pipe fitter's interview questions; you'll have brilliant responses ready.
Get in touch with us today!
Composed by: Suma Sarker
Reference: