Any questions you want to practice should be geared towards your reliability, teamwork, and ability to follow instructions. Various website companies should also be looking for motivation and enthusiasm for the specific position. You need to know some of the most common questions asked in interviews.
Read Pritish Halder below article in which he discussed some of the Full Stack Developers job interview questions: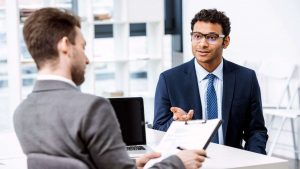 File Name: People-office-Recruitment
Alt-Text: people sitting in the office for an interview
Try practicing some of these common Full Stack Developer's job interview questions:
1. What are some of the challenges of working in full-stack development?
How to answer:  Full-stack developers take on both front- and back-end programming tasks, and the interviewer understands that these functions can be challenging. Demonstrate your ability to take on challenges on the job and give examples of how you've solved problems you've faced in the past.
Answer:  "Because full-stack development requires a diverse range of programming, coding and data analysis skills, it can be challenging to delve deeper into specific aspects of the field. I typically have to rely on my IT team's unique specialties in addition to my oversight and programming integration to develop applications with quick turnarounds."
2. What have been your past responsibilities as a full-stack developer?
How to answer:   This question will give the interviewer an idea of the types of tasks you performed in your past role. Highlight your strongest skills that match the job requirements so the interviewer can see your qualifications.
Answer:  "In my past role, I was responsible for many of the key coding tasks and overall project management. For instance, I wrote quite a bit of back-end code in Python, Java, Ruby, and PHP and optimized front-end code in JavaScript and HTML. Another key job I was responsible for was creating the test code so I could test applications, and I would monitor and ensure application performance. Troubleshooting was another large part of my job, and I would also meet with clients."
3. How do you stay updated on current trends in the tech industry?
How to answer:  Technology is always changing and upgrading, and the interviewer will want to ensure you are willing to continue to learn about new innovations, technological applications and evolving trends in the industry. Demonstrate your ability to learn new skills, take on challenges and advance your knowledge of your field.
Answer:   "I love to attend networking events and tech seminars that introduce new products and extensions. I usually take time at least twice per year to attend these types of events, where I've learned about the latest improvements to JavaScript among others. I also regularly read blogs and tech magazines for emerging trends, and I love technology podcasts for developers because they provide opportunities to learn new applications in programming."
Not every question you will encounter when interviewing for a Full Stack Developer's position will be related to web developer supportive job. But those are the common topics interviewer can ask for selecting a qualified candidates.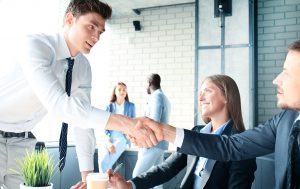 File Name: People-office
Alt-Text: Two People hand shaking in the office
Best Full Stack Developer's Interview Preparing Service
If you're feeling overwhelmed by the questions mentioned above, we totally get you. However, don't fret as you have Pritish Kumar Halder by your side. I am Full Stack Developer's job expert with special skills and help people prepare for all types of Full Stack Developer's job interviews. Whether you need assistance in answering advanced Full Stack Developer's interview questions or core Full Stack Developer's interview questions, I can help you with all.
Get in touch for more information!
Composed by: Suma Sarker
Reference: