Dog groomers perform various grooming duties necessary to improve pets' hygiene and enhance their physical appearance. They bathe, brush, and dry pets, clean their teeth and ears, as well as trim their nails and hair/fur.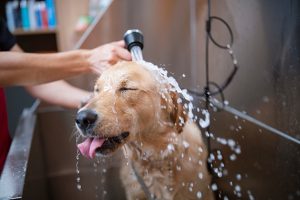 File Name: Dog groomers – animal shelters
Alt-Text: Dog groomers focus on identifying health issues in pets, such as ear infections, skin conditions, or tooth decay, and informing pet owners of these observations.
They work in a variety of settings, including animal shelters, kennels, pet stores, veterinary clinics, and grooming salons. According to the U.S. Bureau of Labor Statistics, 2018, employment for animal care and service workers is projected to grow 22% through 2026, much faster than the average for all occupations.
Read Pritish Kumar Halder article to learn about Dog Groomer's interview:
Dog Groomers' Interview: the Basics
To be successful as a dog groomer, you should be able to comply with pet owners' instructions as well as accommodate any special requests that they may have. Ultimately, a top-notch Pet Groomer will treat all animals with the utmost love and care. The steps to becoming a dog groomer are as follows:
1. Obtain a high school diploma: Some groomers opt to pursue an associate or bachelor's degree in animal science or a related field. These programs typically include courses in animal behavior, animal nutrition, animal anatomy and physiology, and animal husbandry.
2. Pursue an apprenticeship or other training:  training may include learning the specific products and services the business offers, the scheduling, and appointment-making systems, and the sterilization and cleaning procedures.
3. Consider voluntary certification: Many pet groomers opt to pursue additional certification through the Professional Pet Stylist Association.
The level of the interview will directly depend on the experience you have, followed by your qualification and work skills. However, if the candidate is an experienced person, the process can tricky and technical to test the applicant's true abilities.
List of Topics to Prepare
There are many concepts that the interviewer can question you about, it usually revolves around these topics:
High school diploma or GED.

Certification through the National Dog Groomer Association of America is advantageous.

Proven professional grooming experience.

Sound understanding of animal behavior.

The ability to stand for long periods.

The ability to treat all animals with compassion.

The ability to lift heavy pets and equipment.

Excellent communication skills.

Exceptional customer service skills.

Dematting and detangling hair as required.

Bathing, conditioning, and drying pets.

Trimming pets' nails, brushing their teeth and cleaning their ears.

Grooming and styling pets according to pet owners' instructions or standard grooming styles.

Accommodating special requests that pet owners may have.

Identifying health issues in pets, such as ear infections, skin conditions, or tooth decay, and informing pet owners of these observations.

Ensuring that all pets are safe during the grooming process.

Recommending suitable products to pet owners.
When interviewing for a Dog groomer's interview position, your interviewer will ask questions to assess you're performance in regional knowledge and experience. The answers you give can be a deciding factor in whether you receive a job offer.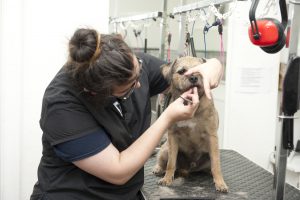 File Name: Dog groomers – grooming salons
Alt-Text: Groomers also have knowledge of dog anatomy and health, which allows them to identify any issues with a dog's body and make any necessary adjustments to the dog's grooming routine.
Learn More about the Job      
Anyone serious about landing a job or acing Dog groomer's job interview should have adequate knowledge about the concepts mentioned above. More importantly, the applicant should know what kind of institutions they are applying to and the nature of the job to prepare accordingly.
However, if you feel overwhelmed, get in touch with Pritish Kumar Halder to help you nail the interview. With his expertise in Dog groomer's interview preparation, from core Dog groomer's interview questions to advanced Dog groomer's interview questions, you'll have brilliant responses ready.
Get in touch with us today!
Composed by: Suma Sarker
Reference: