Interior designers bring to life an artistic vision for work and living spaces, seeing out a project from conception to creation. Design plans should be cognizant of safety and functionality requirements and maintain strict adherence to building codes and regulatory standards.
Read Pritish Kumar Halder's full article in which he discussed preparation tips for Interior Designer Interview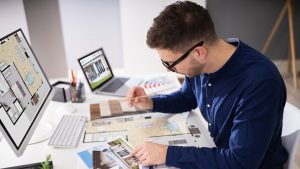 File Name: Interior Designers – specialized design Services Company
Alt-Text: Interior Designers are creative professionals who create indoor spaces that are safe, functional, and visually appealing.
Many interior designers work in specialized design services or architectural, engineering, and related services. The employment of interior designers is projected to show little or no change from 2020 to 2030. Despite limited employment growth, about 7,800 openings for interior designers are projected each year, on average, over the decade.
Interior Designer Interview: the Basics
Good interior designers can think creatively about the use of space, color, and movement and will draw on other artistic mediums for creative inspiration. They will also be effective communicators with the ability to persuade in communicating a design idea.
Interior designers entering the occupation typically need a bachelor's degree in any field, with fine arts subjects being the most common. Studies should include courses in interior design, drawing, and computer-aided design (CAD). Some organizations may also prefer to hire applicants who have passed the National Council for Interior Design Qualification (NCIDQ) exam, and others might look for candidates who have certifications in their specific area of interior design, such as corporate, kitchen, and bath, sustainability, healthcare, and universal concepts.
The level of the interview will directly depend on the experience you have, followed by your qualification and work skills. However, if the candidate is an experienced person, the process can tricky and technical to test the applicant's true abilities.
List of Topics to Prepare
Interior designers need to be imaginative in selecting furnishings and fabrics and in creating functional spaces that serve the client's needs and fit the client's lifestyle. There are many concepts that the interviewer can question you about, it usually revolves around these topics:
Knowledge of a bachelor's degree in any field, with fine arts subjects being the most common

Knowledge of courses, includes in interior design, drawing, and computer-aided design (CAD)

Search for and bid on new projects

Determine the client's goals and requirements for the project

Consider how the space will be used and how people will move through the space

Sketch preliminary design plans, including electrical and partition layouts

Specify materials and furnishings, such as lighting, furniture, wall finishes, flooring, and plumbing fixtures

Create a timeline for the interior design project and estimate project costs

Place orders for materials and oversee the installation of the design elements

Oversee construction and coordinate with general building contractors to implement the plans and specifications for the project

Visit the site after the project is complete, to ensure that the client is satisfied

Strong creativity, artistic ability, and imagination

Excellent verbal and written communication skills

Ability to read and draw blueprints

Knowledge of the quality, rates, and locations of raw materials

Ability to coordinate with multiple teams and resolve any issues regarding operation and delay

Strong leadership and management skills

Advanced attention to detail
When interviewing for an Interior Designer interview position, your interviewer will ask questions to assess you're performance in regional knowledge and experience. The answers you give can be a deciding factor in whether you receive a job offer.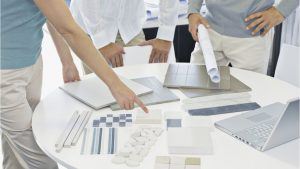 File Name: Interior Designers – teamwork
Alt-Text: Interior designers must be able to work closely with architects and builders to determine the design of the interior space.
Learn More about the Job      
Anyone serious about landing a job or acing an Interior Designer job interview should have adequate knowledge about the concepts mentioned above. More importantly, the applicant should know what kind of institutions they are applying to and the nature of the job to prepare accordingly.
However, if you feel overwhelmed, get in touch with Pritish Kumar Halder to help you nail the interview. With his expertise in Interior Designer interview preparation, from core Interior Designer interview questions to advanced Interior Designer interview questions, you'll have brilliant responses ready.
Get in touch with us today!
Composed by: Suma Sarker
Reference: