Those interested in working with dogs and helping the blind can pursue a career as a seeing-eye dog trainer, either as an entrepreneur or working for someone else. This job requires physical stamina and critical-thinking skills. Trainers have to be able to keep up with their charges and evaluate dogs' progress, making changes to the training plan as needed. Read the full article by Pritish Kumar Halder.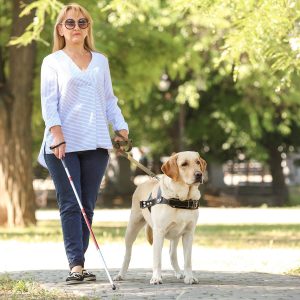 File Name: Disable citizen – Seeing-eye dog
Alt-Text: Being a seeing-eye dog trainer is both physically and mentally challenging and trainers must be critical thinkers, active learners, and decision-makers.
Seeing-eye dog trainers are employed in a variety of settings, including animal shelters, pet stores, and veterinary clinics. Some parts of the job may be physically or emotionally demanding, and workers risk injury when caring for animals. Overall employment of seeing-eye dog trainers is projected to grow 33 percent (for all animal care and service workers) from 2020 to 2030, much faster than the average for all occupations.
Seeing-eye dog trainers Interview: the Basics
Animal trainers teach animals a variety of skills, such as obedience, performance, riding, security, and assisting people with disabilities. They familiarize animals with human voices and contact, and they teach animals to respond to commands. Most animal trainers work with dogs and horses, but some work with marine mammals, such as dolphins. Trainers teach a variety of skills. For example, some train dogs to guide people with disabilities, or they may train animals for competition.
The educational requirements for becoming a seeing-eye dog trainer are a high school diploma or GED and, in some cases.  College-level courses are required in animal science or biology-related fields. Some states require seeing-eye dog trainers to have a license, and certification is voluntary. Experience working with animals through volunteering or apprenticeships can be beneficial for those seeking this career.
The level of the interview will directly depend on the experience you have, followed by your qualification and work skills. However, if the candidate is an experienced person, the process can tricky and technical to test the applicant's true abilities.
List of Topics to Prepare
The key skills one must possess to be a successful seeing-eye dog trainer are instructing, critical thinking, speaking, active learning, active listening, coordinating, judgment and decision making, patience, and stamina. There are many concepts that the interviewer can question you about, it usually revolves around these topics:
Knowledge of a high school diploma or equivalent is essential.

Require a bachelor's degree Dog trainers and horse trainers may take courses at community colleges or vocational and private training schools.

Learn by working under the guidance of an experienced groomer, they can also attend grooming schools.

Some positions may require a bachelor's degree; including positions may require a bachelor's degree.

Prospective seeing-eye dog trainers can enter the occupation through an apprenticeship with a guide dog training school or association.

The Certification Council for Professional Dog Trainers offers the Certified Professional Dog Trainer – Knowledge Assessed (CPDT-KA)designation to those who pass an exam.

Clean equipment and the living spaces of animals

Monitor animals and record details of their diet, physical condition, and behavior

Examine animals for signs of illness or injury

Exercise animals

Train animals to obey or to behave in a specific manner
When interviewing for the Seeing-eye dog trainers interview position, your interviewer will ask questions to assess your perform to in regional knowledge and experience. The answers you give can be a deciding factor in whether you receive a job offer.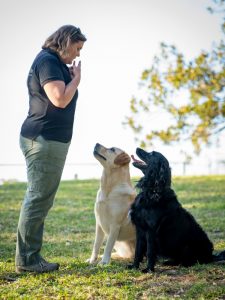 File Name: Seeing-eye dog trainers – trained dogs
Alt-Text: A high school diploma or GED is required to pursue this career, and some college-level courses, as well as licensure and certification, are encouraged as well.
Learn More about the Job
Anyone serious about landing a job or acing a Seeing-eye dog trainer's job interview should have adequate knowledge about the concepts mentioned above. More importantly, the applicant should know what kind of institutions they are applying to and the nature of the job to prepare accordingly.
However, if you feel overwhelmed, get in touch with Pritish Kumar Halder to help you nail the interview. With his expertise in Seeing-eye dog trainers interview preparation, from core Seeing-eye dog trainers interview questions to advanced Seeing-eye dog trainers interview questions, you'll have brilliant responses ready.
Get in touch with us today!
Composed by: Suma Sarker
Reference:
https://bestaccreditedcolleges.org/articles/how-to-become-a-seeing-eye-dog-trainer-career-guide.html