Horse trainers are responsible for the day-to-day care of horses. They work with a variety of breeds, from racehorses to show ponies, and their job is to ensure that these animals are healthy, happy, and well trained.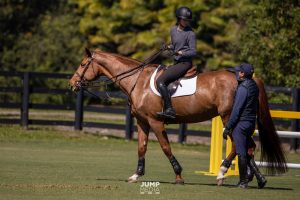 File Name: Horse trainers – outdoor training center
Alt-Text: They use this information to correct any behavioral problems such as head tossing, kicking, biting, and dominance assertion.
Many horse trainers are self-employed and work for several different owners or racing stables. Employment of horse trainers is projected to grow 13 percent (animal trainers) from 2020 to 2029, much faster than the average for all occupations.
Read the full article of Pritish Kumar Halder, in which he discusses the basics of the Horse Trainer Interview, with a list of topics.
Horse Trainer Interview: the Basics
Horse trainers may specialize in certain types of training—they might focus on breaking young horses or helping older ones maintain their fitness. Regardless of their specialty, they all have one thing in common: they love working with horses.
Most horse trainers start with a high school diploma or GED. Some may choose to pursue a two-year associate's degree in equine science or a similar field. These programs teach students about the anatomy, physiology, and, behavior of horses. They also teach students how to care for and train horses. Most horse trainers learn the specific skills and techniques they need for their role while on the job. Some employers may require employees to pass an industry-specific certification to show their general understanding of the field.
The level of the interview will directly depend on the experience you have, followed by your qualification and work skills. However, if the candidate is an experienced person, the process can tricky and technical to test the applicant's true abilities.
List of Topics to Prepare
There are many concepts that the interviewer can question you about, it usually revolves around these topics:
Knowledge of a high school diploma or GED

pursue a two-year associate's degree in equine science or a similar field

Understanding of raining horses by introducing them to new equipment such as saddles, bits, and harnesses or helping them improve their performance in equine sports such as racing, jumping, or dressage

Knowledge of working with jockeys to ensure that they are using proper riding technique

Diagnosing physical problems with a horse, such as muscle strain or injury, and recommending treatment options

Observing horses at the stables where they are kept to identify any health issues or behavioral problems that may require attention

Identifying potential problems with a horse's physical condition to prevent accidents or injuries during training or racing

Providing instructions to grooms regarding daily care of horses, such as feeding, grooming, and cleaning stalls

Providing instruction on proper riding techniques to students, including children and adults

Monitoring the weight, diet, exercise routine, and general health of a horse to ensure it remains fit for competition

Understanding of overseeing the training process and providing feedback to trainers and jockeys about their performance
When interviewing for the Horse Trainer interview position, your interviewer will ask questions to assess you're performance in regional knowledge and experience. The answers you give can be a deciding factor in whether you receive a job offer.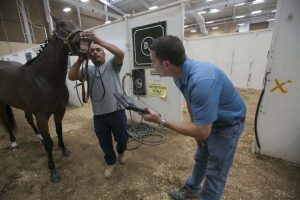 File Name: Horse trainers – horse shelter
Alt-Text: Most trainers also observe a horse's nutrition, feeding habits, and health, which may be discussed with veterinarians and horse nutritionists if the trainer suspects the animal is ill.
Learn More about the Job      
Anyone serious about landing a job or acing a Horse Trainer job interview should have adequate knowledge about the concepts mentioned above. More importantly, the applicant should know what kind of institutions they are applying to and the nature of the job to prepare accordingly.
However, if you feel overwhelmed, get in touch with Pritish Kumar Halder to help you nail the interview. With his expertise in Horse Trainer interview preparation, from core Horse Trainer interview questions to advanced Horse Trainer interview questions, you'll have brilliant responses ready.
Get in touch with us today!
Composed by: Suma Sarker
Reference:
https://bestaccreditedcolleges.org/articles/horse-trainer-job-description-duties-and-requirements.html