What Is Content Marketing?
Useful content should be at the core of your marketing. Read Pritish Kumar Halder's article and get enough knowledge about content marketing.
Traditional marketing is becoming less and less effective by the minute; as a forward-thinking marketer, you know there has to be a better way.
Enter content marketing.
Content marketing is a strategic marketing approach focused on creating and distributing valuable, relevant, and consistent content to attract and retain a clearly defined audience — and, ultimately, to drive profitable customer action.
Instead of pitching your products or services, you are providing truly relevant and useful content to your prospects and customers to help them solve their issues.
Content marketing is used by leading brands
Our annual research shows the vast majority of marketers are using content marketing. It is used by many prominent organizations in the world, including P&G, Microsoft, Cisco Systems, and John Deere. It's also developed and executed by small businesses and one-person shops around the globe. Why? Because it works.
Content is the present – and future – of marketing
Go back and read the content marketing definition one more time, but this time remove the relevant and valuable. That's the difference between content marketing and the other informational garbage you get from companies trying to sell you "stuff." Companies send us information all the time – it's just that most of the time it's not very relevant or valuable (can you say spam?). That's what makes content marketing so intriguing in today's environment of thousands of marketing messages per person per day.
Marketing is impossible without great content
Regardless of what type of marketing tactics you use, content marketing should be part of your process, not something separate. Quality content is part of all forms of marketing:
Social media marketing: Content marketing strategy comes before your social media strategy.
SEO: Search engines reward businesses that publish quality, consistent content.
PR: Successful PR strategies should address issues readers care about, not their business.
PPC: For PPC to work, you need great content behind it.
Inbound marketing: Content is key to driving inbound traffic and leads.
Content strategy: Content strategy is part of most content marketing strategies.
Benefits
A content marketer's ultimate goal is to drive sales. But how do they do that?
Content marketers build trust with their target audience through the consistent delivery of high-quality content.
Content marketing lets you build a relationship with prospective customers without pressuring them to make a purchase right away.
By building trust with content, you can increase your sales while reducing your marketing spending.
Here are just a few ways content marketing helps build brand awareness and generate more leads for businesses:
Content marketing can increase website conversion rates by up to five times
Content marketers drive 7.8 times more unique website traffic year-over-year
95% of B2B customers report that content helps them trust companies
61% of consumers have bought something they read about in a blog
According to SEMRush, the top goals for content marketing strategies include:
Generating more quality leads
Increasing website traffic
Improving the brand's reputation
Increasing customer loyalty and engagement
Safe to say content marketing can generate returns at every point along the buying process.
Types
So, what does a successful content marketing strategy look like?
First, a good strategy is a documented one.
It's even better if you have a dedicated content marketing specialist in charge of planning, executing, and analyzing your editorial calendar.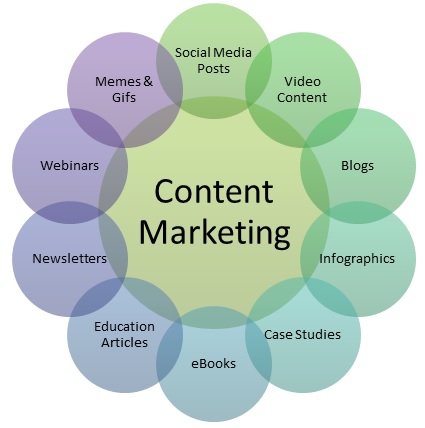 Secondly, success comes from variation in content type but consistency in delivery. Offering a variety of content helps you appeal to a broader audience and leverage content marketing at various points along your customer journey.
Let's look at some types of content marketing formats you can use to build up your strategy.
Blogs
Blogging might be one of the first forms of content that comes to mind when you think of content marketing. Bloggers and businesses alike have been using blog content to build and monetize loyal followings.
Blogging is particularly impactful when paired with SEO best practices.
SEO is a staple in any inbound content marketing strategy. Inbound means you bring leads to your website by creating valuable content that appears on search engine results pages (SERPs).
Besides the time it takes to write a blog post, the cost of blogging is exceptionally low. Businesses without a team of writers can choose to outsource writing for their blog posts and still reduce marketing costs.
Tip to make blogs work for you: Focus on long-form content and SEO optimization so you can drive more organic traffic and reduce your ad spend.
Case Studies
A case study is a piece of content you create that outlines your success with a particular client.
Case studies are particularly effective in the B2B industry, where purchases usually involve higher costs and more risk.
When you write a case study, highlight your customer first and your product second. In other words, your case study should read like a story about your client that shows your brand as a successful supporting role.
By showcasing your satisfied customers, you show sales prospects that you can deliver positive results for them.
Tip to make case studies work for you: Include specific details about your customer's success story and always quantify positive results when you can.
E-Books
E-books are an excellent way to establish your brand as an authoritative or knowledgeable voice in your industry.
Image Source
E-books are commonly used as lead magnets to increase subscribers and identify qualified marketing leads.
A business creates an e-book that's available to download for free and uses a landing page to distribute it. The potential customer needs to subscribe to a newsletter or provide their email address to receive the e-book file.
Someone who has downloaded your e-book has shown interest in your brand or product and can be recorded as a marketing-qualified lead.
Tip to make e-books work for you: Include actionable tips in your e-book to help your target audience generate their desired results.
GIFs/Memes
Not all content marketing formats need to be long-form expert content. While informational content works well for many businesses, sometimes your consumers just want to be entertained.
That's where GIFs and memes come into play. A GIF is an image file that can be used to create animated images.
A meme is an image with a text overlay that spreads virally on the internet and social media platforms.
Do the names sound funny? Yes.
Do they work? Also yes.
GIFS and memes reign supreme in the world of viral marketing. Viral marketing is word-of-mouth marketing at its best.
When one person sees a viral post, they share it with multiple people. And it grows exponentially.
The result?
Seemingly instantaneous boosts in brand awareness and engagement on social media.
GIFs and memes work particularly well in B2C social media strategies focused on reaching new audiences.
Tip to make GIFs and memes work for you: Define your brand's voice, tone, and risk tolerance before publishing GIFs and memes. It's easy for these viral content categories to stray a little too far off-brand.
Infographics
Informational content, while helpful, can quickly become dull or dense.
If you want to educate an audience with a short attention span (basically anyone on the internet), you can use an infographic to get the job done.
Infographics are creative visual representations of data related to a particular topic.
Marketers use a blend of the following to tell a data-rich story with infographics:
Images
Icons
Data
Text
Graphs
Diagrams
Infographics make a great addition to blog posts, and they're also excellent for increasing engagement on social media. The added visuals make infographics easy to scan, consume, and share.
Tip to make infographics work for you: Find shareable stats, so that when other content marketers reference your infographics, you'll receive more backlinks and exposure.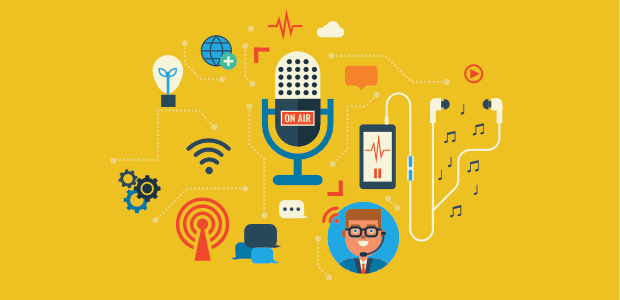 Podcasts
Podcasts are digital audio files distributed online, usually in installments. Consumers can download the audio files, listen on your website, or access podcasts on apps like Spotify.
In a world where new video marketing formats are released constantly (we're looking at you, TikTok), why are podcasts so popular?
Podcasts are an accessible type of content marketing that empowers consumers to get their information while performing other tasks.
Think about it.
You can get information from a podcast while you're driving, running, or cooking. It's harder to multitask while reading an e-book or watching a video.
Podcasts were made for people on the go, and who isn't these days? (Well, barring lockdown restrictions.)
You can use podcasts to generate leads and awareness for your brand, but that's not all.
Podcasts offer an excellent opportunity to open up new revenue streams by working with sponsors or using affiliate marketing.
Tip to make podcasts work for you: Invite experts to your show. If you're just starting with podcasts, this helps you build trust and generate interest with your target audience.

Webinars
If you look back on your college years, what do you miss the most? That's right — classes.
Okay, maybe not classes. Despite that, 74% of professionals want more training to help them reach their full potential.
People in all industries are registering for webinars to learn new skills, keep up with trends, and figure out how to get the most out of their tech stack.
It's no surprise that 73% of B2B companies say they generate the most high-quality leads from webinars.
Webinars are a unique opportunity to interact with your target audience while providing value and positioning your brand as a thought leader.
Tip to make webinars work for you: Increase your digital marketing strategy ROI by recording and replaying on-demand webinars for more fundamental topics.
White Papers
A white paper is an authoritative report meant to educate readers and help them solve relevant problems by promoting a particular method of action. For more information please visit Pritish Kumar Halder 's page.
Compared to blog posts, white papers are longer (usually 3,000-5,000 words), and they are primarily rooted in research and data.
Furthermore, white papers are downloadable PDF files, whereas blog posts and articles are available as a website page.
Of all of the types of content marketing assets, white papers are the most effective at influencing B2B buying decisions, followed by webinars.
Businesses that outsource content creation will spend more on white papers than blog posts.
White papers cost between $3,000 to $6,000 on average to produce. However, they have a useful lifespan of about one to three years.
Tip to make white papers work for you: Present a new way of solving a common industry problem and back up your claims with research and data.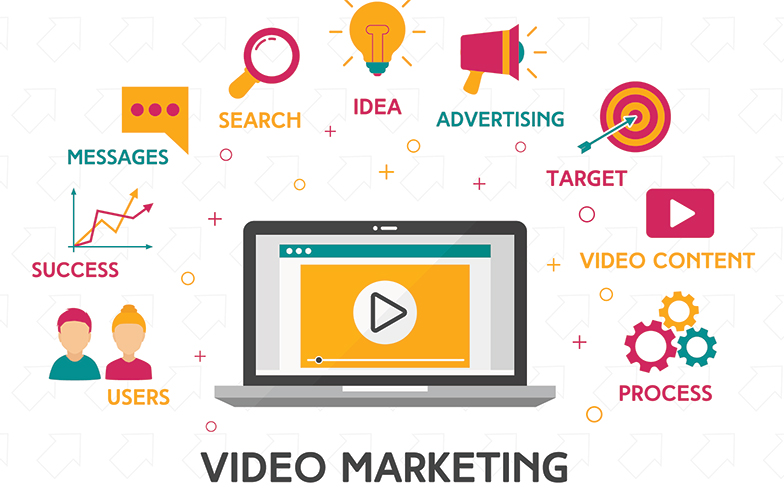 Video Marketing
The effectiveness of video marketing continues to grow in SEO and social media. A whopping 93% of brands that used video on social media got new customers.
Some of the types of content marketing on this list work best for B2B or B2C, but not both. In contrast, the video presents opportunities for all kinds of businesses.
As platforms like YouTube and TikTok continue to grow, video marketing will become a requirement for content marketers.
Here are just a few examples of ways you can promote your brand with video:
Customer testimonials
How-to videos
Behind-the-sceneses excerpts
Expert interviews
Answering customer questions
Consumers place a high value on authenticity, so you don't need a full professional setup to create videos that generate leads.
Plus, you can take segments from longer videos on your website and repurpose them for platforms such as Instagram or Tik Tok.
Tip to make video work for you: Post videos in multiple places, such as your website, YouTube, Facebook, and Instagram for maximum reach.
Reference 
https://www.optimizely.com/insights/blog/types-of-content-marketing/
https://contentmarketinginstitute.com/what-is-content-marketing/