AI considerations
AI is very good at automating mundane and repetitive processes. When AI is incorporated into a chatbot for these types of tasks, the chatbot usually functions well. However, if a demand is made on a chatbot that extends beyond its capabilities or makes its task more complicated, the chatbot might struggle—and that has negative consequences for businesses and customers. There are questions and issues that chatbots simply may not be able to answer or resolve—for example, complex service issues that have a large number of variables.
For detailed information contact Pritish Kumar Halder.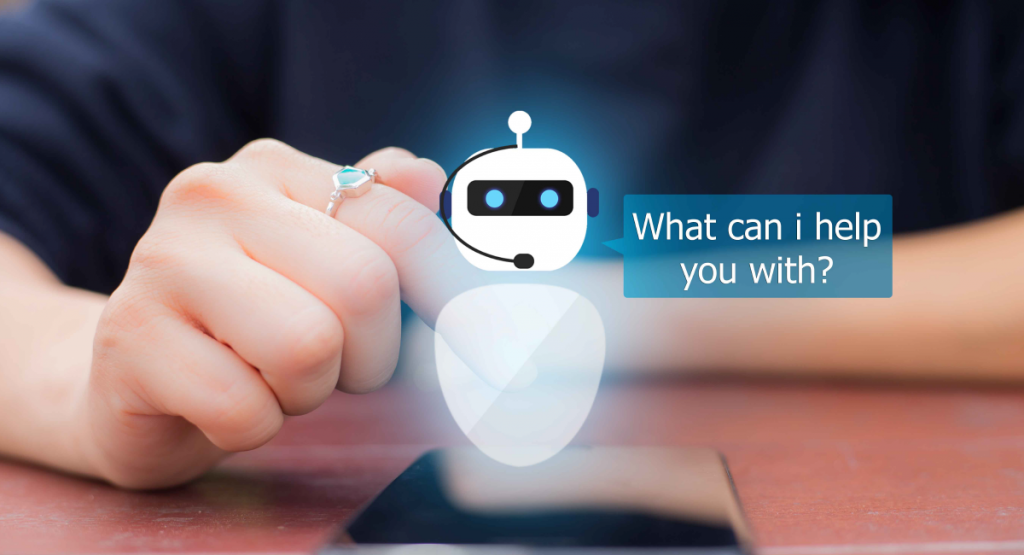 Developers can work around these limitations by adding a contingency to their chatbot application that routes the user to another resource (such as a live agent) or prompts a customer for a different question or issue. Some chatbots can move seamlessly through transitions between chatbot, live agent, and back again. As AI technology and implementation continue to evolve, chatbots and digital assistants will become more seamlessly integrated into our everyday experience.
Data considerations
All chatbots use data, which is accessed from a variety of sources. As long as the data is high quality and the chatbot is developed correctly, the data will be a chatbot enabler. However, if the data quality is poor, it will limit the chatbot's functionality. And even if the data quality is good, if the chatbot's ML training wasn't modeled properly or is unsupervised, the chatbot can perform poorly—or unexpectedly, at the very least.
In other words, your chatbot is only as good as the AI and data you build into it.
Are chatbots bad?
There are some misconceptions about the term chatbot. Although the terms chatbot and bot are sometimes used interchangeably, a bot is simply an automated program that can be used either for legitimate or malicious purposes. The negative connotation around the word bot is attributable to a history of hackers using automated programs to infiltrate, usurp, and generally cause havoc in the digital ecosystem.
Tasks performer
Bots and chatbots, therefore, should not be confused. Generally speaking, chatbots do not have a history of being used for hacking purposes. Chatbots are conversational tools that perform routine tasks efficiently. People like them because they help them get through those tasks quickly so they can focus their attention on high-level, strategic, and engaging activities that require human capabilities that cannot be replicated by machines.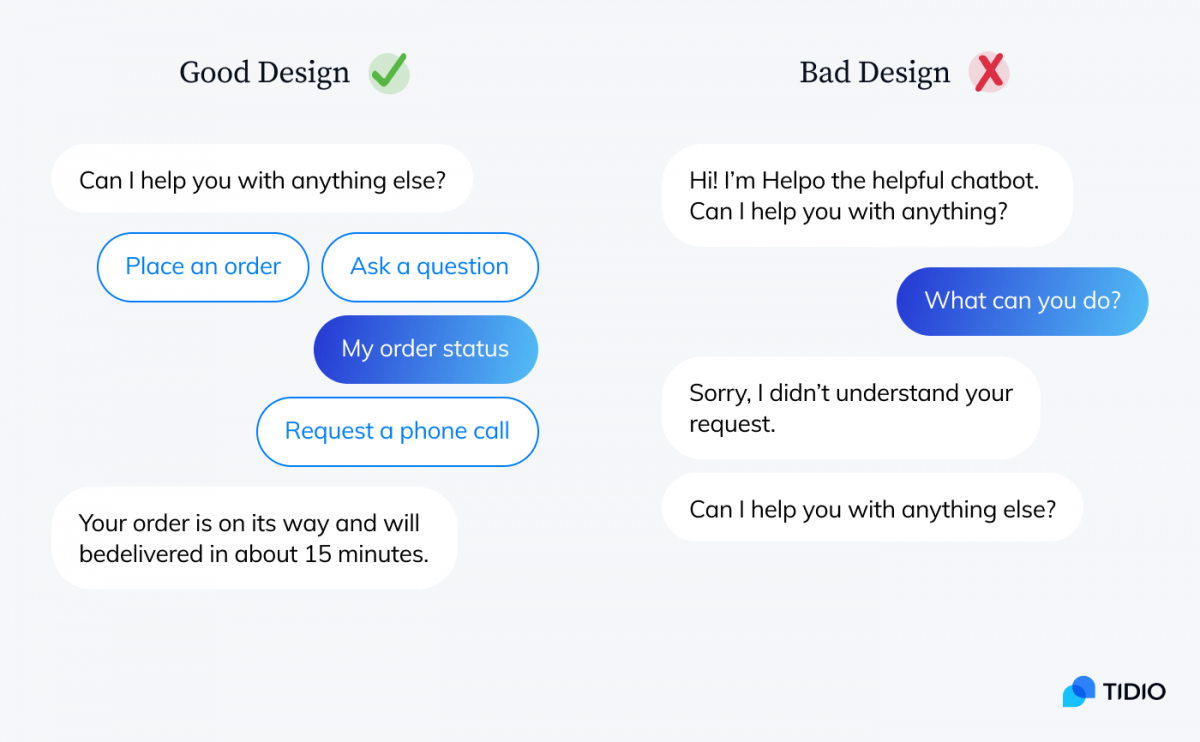 WHAT ARE THE BENEFITS OF CHATBOTS?
With buyers wanting more personalized experiences, forward-thinking brands have adopted chatbots to go beyond customer expectations.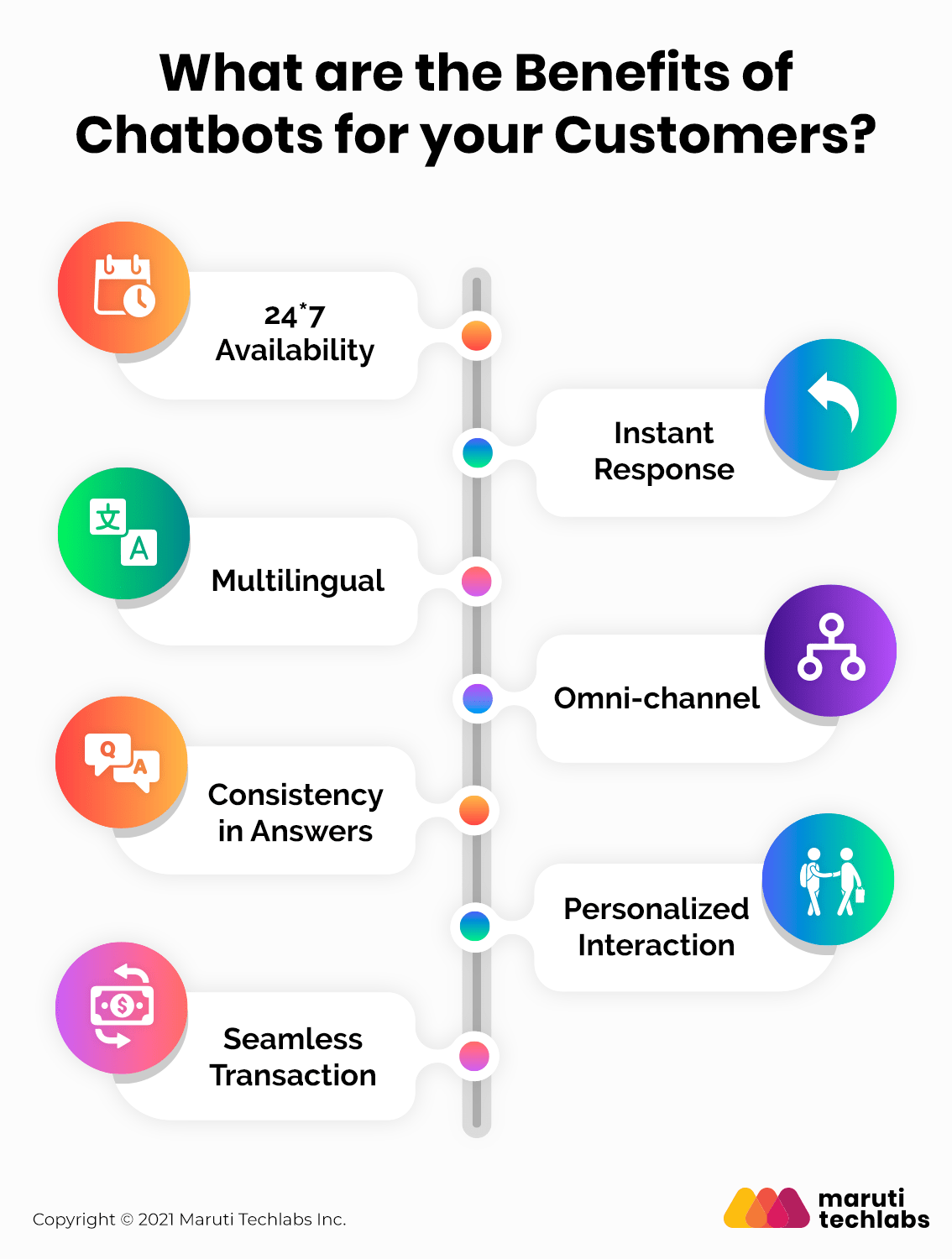 While this can be done with human beings, there is a tipping point. That's why forward-thinking brands have adopted chatbots to help them take advantage of the following benefits:
Increase website engagement with personalization: There's no better time to start a conversation than when a buyer is exploring your website. Chatbots engage with site visitors at the moment of highest intent through personalized conversations.
Leverage visitor intelligence for better conversations: With visitor intelligence, chatbots can identify site visitors and deliver an experience tailored to them. They also take in additional information from the visitor and build them into future conversations.
Give high-value accounts the red carpet experience: You'll never miss an opportunity to engage a target account again — not with a chatbot that personally greets the buyer and gives them a fast track to sales. Plus, with a chatbot in place, you won't have to worry about losing valuable opportunities when your sales team is offline.
Prioritize customer prospecting with real-time notifications: You only want to chat with those accounts that are ready to buy. Chatbots streamline your prospecting by notifying sales reps when a high-intent, priority account is on your website so they can jump straight into chat.
Generate more qualified leads: It would be nice if we could talk to every lead and ensure they're a good fit before scheduling a meeting. But that's impossible to do at scale. Chatbots can do most of the heavy lifting by qualifying your leads in real-time and improving sales acceleration.
Combat customer churn: Chatbots are the perfect solution to high-volume support inquiries. Instead of forcing customers to navigate cluttered knowledge bases, you can use a customer service chatbot to deliver support information instantly, 24/7.
Chat live when needed: Sometimes customers just need human support. Customer service chatbots will automatically route your team for high-level issues without distracting them with easily-answered questions.
Conversion rates
Increase lead to pipeline conversion rates by up to 100%: Drift commissioned Forrester Consulting to conduct a Total Economic Impact (TEI) study to examine the potential return on investment (ROI) of Drift. The report found that companies using Drift can grow annual recurring revenue (ARR) in target accounts by up to 17.5% and experience up to a 670% ROI. That's a lot of impact on the pipeline.
 CHALLENGES
In an ever-evolving digital landscape, there will inevitably be bumps in the road. While chatbots greatly improve the buying experience, they're not perfect.
Some of the challenges chatbots might have include:
Misinterpreting messages
Chatbots can have difficulty understanding the variety of ways in which people talk — such as slang, misspelled words, and the nuances of certain sentences — which can lead to misunderstandings.
Not recognizing visitors
Without integrated intel, your chatbots might end up asking your visitors (even your top accounts) a bunch of qualifying questions. And then your sales reps may be forced to repeat those same questions on a call.
Missing key opportunities
While a chatbot offers a great experience for the majority of your site visitors, they're not ideal for your target accounts. You'll want to use a chatbot with strong routing rules and real-time notifications so those accounts are connected with a sales rep right away.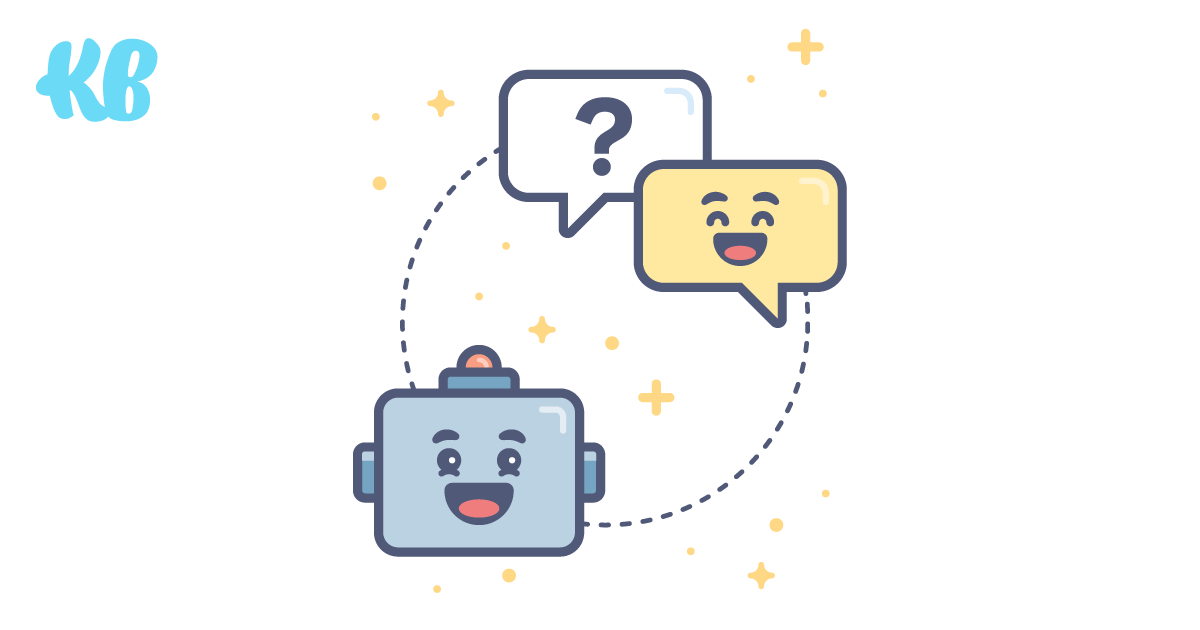 Limited conversation options
Most chatbots (except AI chatbots) offer only a few responses for the site visitor to choose from. So there's a good chance your visitors will not find what they are looking for or they may have to navigate a maze of chat options to get there.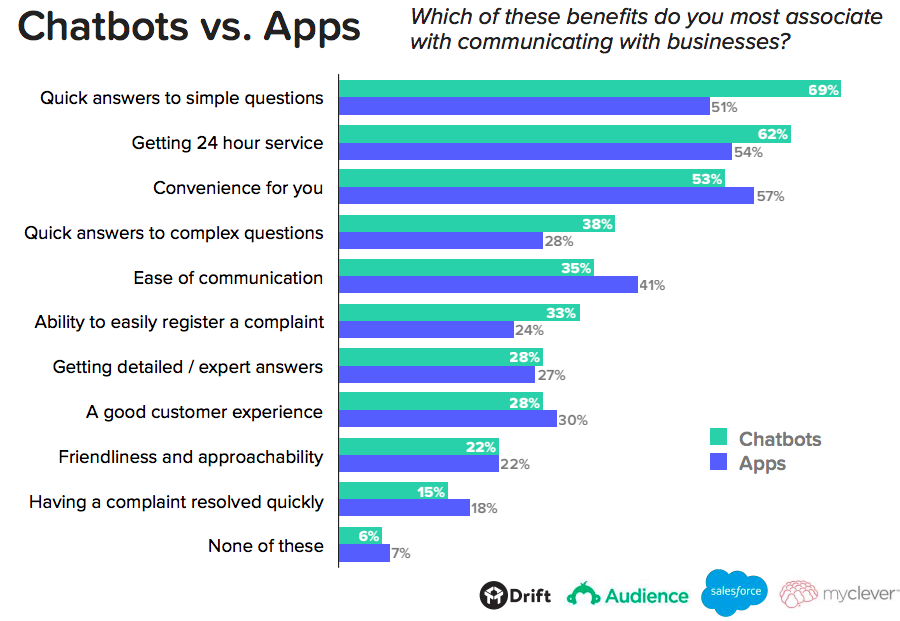 Lacking personalization
Today's buyers consider personalized experiences the norm. However, some chatbots fail to leverage real-time personalization, without which the buying experience feels impersonal and robotic.
Need to be maintained
The ideal buying experience is always changing — and that means your chatbots have to keep pace. No matter what kind of chatbot you use, you have to optimize them regularly to ensure buyer and customer satisfaction. They're not set it and forget it. Luckily, there are communities like Drift Insider that share best practices on how to engage with customers, learn effective sales plays, amplify your growth strategy, and more.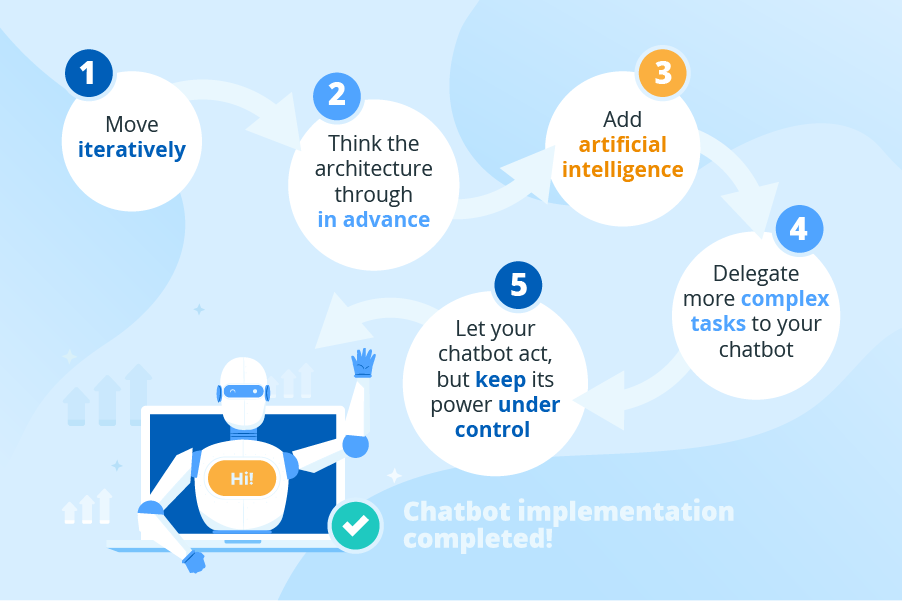 Evolving & Improving
Today's chatbots are constantly evolving and improving — but it's hard to predict what challenges may crop up in the future.
The good news is a lot of the challenges that we've listed here can be solved with Drift Conversational Sales which offers custom and AI-enabled chatbots that follow chatbot best practices, such as having built-in intelligence tools, sending real-time notifications, and more. Get a demo today.
 CHATBOT EXAMPLE LIBRARY
So you might be thinking: What does a chatbot look like in action?
To give you an idea, we've assembled a collection of really good chatbots which showcase different playbooks at different stages of the buying journey. You'll see examples from B2B, B2C, and everything in between. Here is a couple to get you started:
GONG: ENGAGE ALL
Gong's Engage All chatbot greets all site visitors (as long as they don't trigger a more targeted experience) and allows them to start a conversation.
BRANDWATCH: CONTACT US
Brandwatch's Contact Us chatbot offers site visitors the chance to skip the form and connect with a human right then and there.
PTC: PERSONA TARGETING
PTC's Persona Targets chatbot homes in on the visitor's specific industry by offering them the chance to speak with an industry expert. For more information please visit Pritish Kumar Halder 's page.
LESSONLY: CONVERSATIONAL CONTENT
Lessonly's Conversational Content chatbot pops up alongside a piece of content so the visitor can ask questions while browsing — or even schedule a call with sales.
ZENEFITS: WEBSITE CONCIERGE
Benefits Website Concierge is an AI-enabled chatbot that allows site visitors to dive into their needs and interests by typing straight into chat.
Want more? Check out the other chatbots featured in our collection of chatbot examples and find out what makes a chatbot good.
READY TO GET STARTED WITH CHATBOTS?
Let's set up a demo of Drift.
If you need a little more convincing, check out our ROI calculator to find out just how much money you're leaving on the table by not having them.
The future of chatbots
Where is the evolution of chatbots headed? Chatbots, like other AI tools, will be used to further enhance human capabilities and free humans to be more creative and innovative, spending more of their time on strategic rather than tactical activities.
5G technology
Shortly, when AI is combined with the development of 5G technology, businesses, employees, and consumers are likely to enjoy enhanced chatbot features such as faster recommendations and predictions, and easy access to high-definition video conferencing from within a conversation. These and other possibilities are in the investigative stages and will evolve quickly as internet connectivity, AI, NLP, and ML advance. Eventually, every person can have a fully functional personal assistant right in their pocket, making our world a more efficient and connected place to live and work.
Reference
https://www.oracle.com/in/chatbots/what-is-a-chatbot/