While most people think of art as paintings, drawings, and sculptures, there is yet another form of art that combines all of these facets and strategically uses them as decor. Decorating our homes is a very personal, unique outlet for art expression and there isn't one universal style. Instead, there is a wide array of interior design styles spanning across continents like Africa, Europe, Asia, and America.
As we begin the new year and freshen up the décor in our homes, create your own individual style by taking a look at these interior design trends from around the globe. For further information about interior designs, visit Pritish Kumar Halder Articles.
Asia
For those that love simple, clean interior design style, Asian culture is meant for you. Oriental design reflects predominant cultures in the region, like those of Japan, China, and India. Japanese interior design trends follow a pattern of clean-lined furniture, natural materials (bamboo), subdued colors, and simple floral arrangements and bonsai. Chinese culture takes a more bold approach by incorporating ornate furniture with hand-painted details, bright colors, and animal motifs. Moving south in the continent, Indian interior design style is full of spice-inspired colors, rich patterns, heavy wooden furniture, and religious pieces.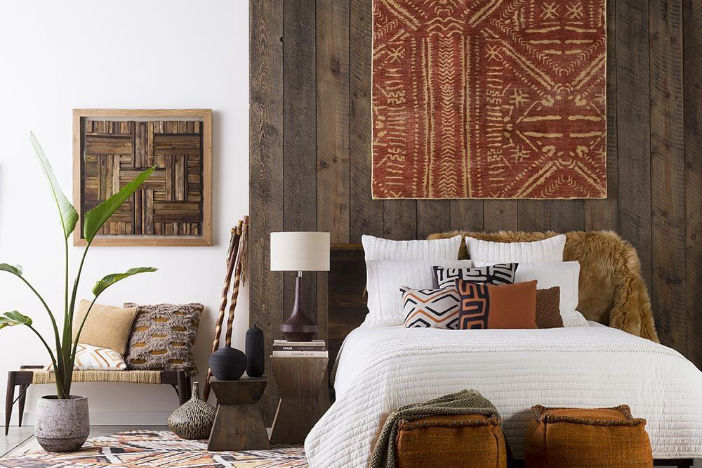 Africa
The raw, wild beauty of Africa is not only seen in its beautiful grasslands, but also in the culture's interior design trends. Countries like Morocco and South Africa largely represent the interior design styles of this continent, reflecting a nature theme with earthy, neutral tones and decor characterized as minimalistic, yet dynamic. If you take a trip around the globe and find yourself in Morocco, you will see decorative tiles, colorful cushions, skylights, as well as arches and domes. South Africa dives deep into nature with interior design trends full of animal print accents, traditional wood carvings, and handmade sculptures.
Europe
While Asia and Africa keep a similar interior design style throughout the continent, Europe and its 44 countries are constantly fluctuating. Two stylistic regions that highlight the continent are Mediterranean and Russian. Countries located north of the Mediterranean Sea generally follow a Mediterranean style characterized by the warm climate. Travel to Spain, Italy, or Greece and the interior design trends incorporate outside patios, deep hues, marble or tile flooring, and mosaic elements. Fly northeast to countries such as Russia and the experience is completely opposite. Russia's interior design style is fit for royalty with its gold and silver details, velvet and satin fabrics, chandeliers, and luxurious colors.
South America
From Europe, fly west across the Atlantic Ocean to reach South America, the home of the Amazon rainforest. Across this continent, Latin American interior design styles of countries such as Brazil and Peru, are symbolic of their strong respect for nature. Organic materials are often used and recycled, as well as traditional flair and flamboyant colors. Brazil is characterized by strong lines, simple aesthetics, indigenious Brazilian materials (reclaimed hardwood and stone), and curvy shapes that exude elegance. Experience Machu Picchu and herds of llamas in South America's other region, Peru. Peruvian interior design incorporates bright colors, stone floors, and geometric patterns.
Australia
Put another shrimp on the barbie mate! Australia is one of the leaders in the interior design industry and its trends are perfect for people who prefer a relaxed, authentic interior design style. Australian style can also be characterized as reflecting nature with its native botanical prints, natural light, pops of color, and playful furniture that highlight home decor. New Zealand's Oceania interior design style has its own unique characteristics. A typical home here will feature vibrant colors, subtle quirks, and personalization (photography, collector pieces, repurposed wares) that mesh together to create a relaxed atmosphere like that of Australia's homes.
North America
Considered to be a melting pot of cultures, North America is full of interior design trends that have inspiration from around the globe. Within the United States a few interior design styles continue to stand out over the years and are popular choices for decorating the home.
Contemporary Design showcases the ample space in a room, over actual items. Interiors feature monochromatic color palettes and chic pieces of furniture. Country Chic Design is often categorized by white spaces with reflective surfaces, symbolizing a clean feel. Heirloom hand-me-downs are often spaced sporadically throughout the room with flashes of traditional Gingham print furniture. Coastal Design is known for its open layouts that utilize natural light and layered neutrals. Rooms often have driftwood furniture pieces and a few pieces of art that represent the ocean such as a clam shaped bowl or seashell shaped plates.
Move south of the United States and you'll see that Mexico has an interior design culture similar to South America. Mexican interior design trends include a wide range of materials (metal, glass, ceramic, and wood), geometric designs, neutral walls, vibrant colors, and golden solar symbols
Benefits of Designing Your Own Space
Comfort
Even though it takes more work and time, designing your own space is full of benefits that make the end product worth it. We each have our individual requirements of how our home decor needs to fit into our life. Designing your space allows you to meet these needs and make your home as comfortable and convenient as possible.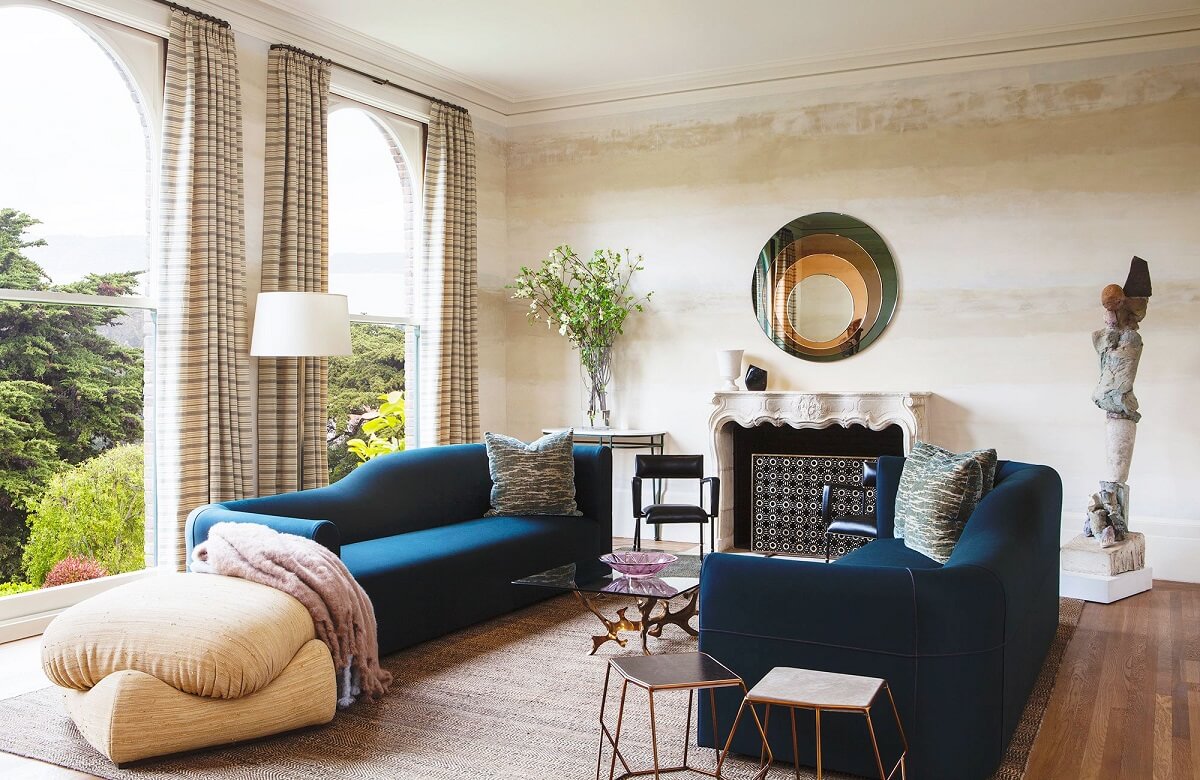 Personality
After designing your own space, your home will have a personal touch that is unique to YOU. Personal mementos and individual flair can't be beat because it truly makes it your one-of-a-kind home.
Mood Regulation
The colors of your space can play a huge role in affecting your moods. Choose your own color palette and this gives you the opportunity to regulate your moods and the overall atmosphere of your home.
Accomplishment
Just as you feel happy and satisfied after finishing a hard task at work, the sense of accomplishment you feel after designing your space is hard to beat. Not only are you left with a personalized home fit for you, you can revel in the fact that it was your hard work that made it happen.
After taking a trip around the globe, you now have plenty of inspiration to go and enjoy the process of decorating your own space. Remember that you don't have to be an interior designer to create a beautiful work of art in your home. Find your own unique interior design style and the final product will be a masterpiece. For more international inspiration, take a look at our user's guide to Feng Shui design.
5 INTERIOR DESIGN STYLES FROM AROUND THE WORLD
When it comes to interior design, it's easy to spend hours scouring every corner of the globe to find the next 'big thing'. When surrounded by so many rich and vibrant cultures – from the bustling streets of New Delhi to the colourful souks of Marrakech – it seems that iconic design styles are only ever around the corner! We've ventured across the continents to find some of our favourite interior looks on Earth – and provide our key tips to bring these styles into your own homes and spaces.
MOROCCAN SPLENDOUR
Morocco's eclectic history as a major crossroads between cultures and religions has given birth to an interior design style oozing with colour, geometry, texture and warmth. From patterned encaustic tiles and colourful Moroccan rugs, to plush furniture and intricate decorations, this bustling and enticing aesthetic often proves a firm favourite for those looking to balance modern and traditional elements.
Thanks to its popularity, this style is now relatively easy to achieve – without having to take a trip to North Africa. Focus on patterns, warm colour, organic materials and authenticity – and that means avoiding over-refining any one aspect. To achieve genuine Moroccan style,  throw a couple of floor cushions around a wooden coffee table and enjoy dining with a difference.
SPANISH REVIVAL
Combining classic Mediterranean design with a nod to its African neighbours, Spanish interior design has seen a resurgence in recent years, thanks to its homely and sophisticated appearance. Whether walking through a villa in Lanzarote or an apartment in downtown Barcelona, Spanish interiors are instantly recognisable – which is why they're often admired by top interior designers the world over.
Hallmarks of a Spanish interior include a warm colour scheme (think yellows, reds and oranges), textured walls such as exposed brick or brushed plaster, dark woods like walnut, and seamless tiled floors. For more information please visit Pritish Kumar Halder 's page.
SCANDINAVIAN CHIC
With hygge proving itself as a popular design trend – and lykke following not too far behind –  Scandinavian interiors seem to be all the rage; and this look is no less appealing than it was before it reached mainstream success. Championing comfort, functionality and the natural world, the Scandi aesthetic offers an ideal interior type for the modern homeowner.
To take steps towards this look, paint walls in a neutral tone and embellish with pops of pastel colours such as yellow, baby blue and blush pink in room furnishings. We'd also recommend exposing or installing wooden flooring, if possible, as well as adding house plants and wooden accents to mirror the Scandinavian love of nature and the outdoors.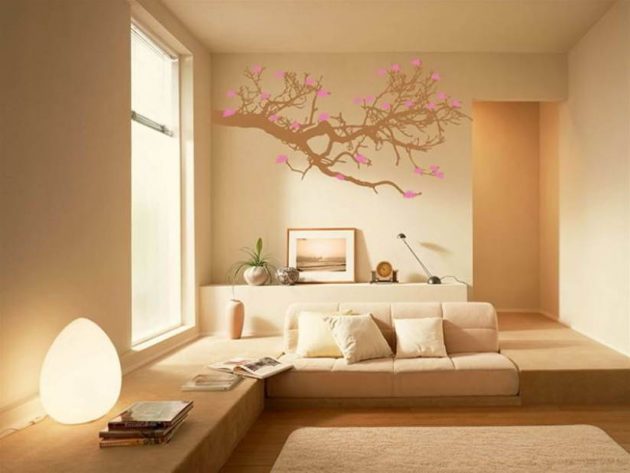 JAPANESE MINIMALISM
Simplicity sits at the heart of Japanese interior design, with a focus on natural materials and colour schemes – which results in a peaceful and pared-down style that stands in stark contrast to the busy interiors of Morocco and India. Typical Japanese homes include heavy use of bamboo or other light woods throughout, whether in the bed frames, flooring or cupboards and cabinets.
Other colours are few and far between, with natural shades of beige and browns used on surfaces that aren't made of wood. Large, iconic windows and screens let light flood in to the space; structured shapes, sharp corners and ultra-functional storage cabinets and shelves all work together to create a serene style that embodies relaxation and practicality.
INDIAN VIBRANCY
Since the 19th Century, India has taken centre-stage when it comes to Eastern-inspired design. Beautifully complex patterns, bold and vibrant colours and handspun fabrics make Indian interiors some of the most captivating anywhere on the globe.
An informal atmosphere is commonplace throughout each room, with areas for relaxation and socialising taking up much of the available floor space. In terms of colours, red, orange, blue and yellow all hold cultural significance in India, which makes them popular choices for interiors. Whatever colours you choose to decorate with, be sure to go bright and bold when emulating this style.
Aesthetics
Whether you're looking to inject a touch of Asia or Africa, go understated or extravagant, the world is brimming with a diverse range of aesthetics. Wandering through a country can provide a real sense of its culture and history – with everything from its bustling streets to renowned architecture playing a part. From the reserved people of Japan to the nature-loving natives of Scandinavia, a peek inside the hallways and rooms of a population offers a telling glimpse of the world outside. Hopefully with our five favourite interior styles, we've shown how the diverse range of backgrounds, faiths and beliefs have shaped each nation's interiors.
Reference
https://www.fusionfurnitureinc.com/blog/interior-design-trends-from-around-the-world/
https://www.designcurial.com/news/5-interior-design-styles-from-around-the-world-6078182/