Roustabouts are manual laborers who work in the oil and gas drilling industries. They are responsible for a wide variety of tasks aimed at keeping oil and gas rigs running safely and efficiently. Roustabouts typically work difficult shifts that be more than twelve hours long. So, they need to be physically fit and have the stamina for hours of manual labor. Explore more knowledge about roustabouts with Pritish Kumar Halder.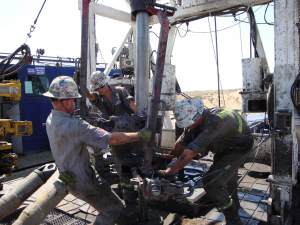 File Name: Roustabouts – Oil drilling industries
Alt-Text: Roustabouts also need a high level of physical and mental stamina to work shifts that can be longer than 12 hours for weeks at a time
Roustabouts typically work outdoors on oil rigs, pipelines, or at natural gas processing plants. They may be required to travel long distances to work sites, sometimes in remote locations. While the BLS does not provide employment outlook information for roustabouts, O*Net estimates a 15 percent increase in jobs between 2016 and 2026.
Roustabouts' Interview: the Basics
Becoming a roustabout is typically the entry point for workers in the gas and oil industry. While this role has not traditionally required any formal education, the increased demand for roustabouts (particularly in natural gas drilling operations) has resulted in vocational schools. And community colleges establishing programs to prepare candidates for employment as roustabouts.
The primary qualifications for becoming a roustabout with no experience are a high school diploma and physical fitness. Some schools offer roustabout-focused training programs, and attending these can help you secure this entry-level role. Completing an apprenticeship can also accelerate your entry to the field and help with your promotion to another role after you gain experience.
To be successful roustabout strength and stamina are crucial to this job. So, employers may ask you to undergo a fitness test before hiring you. Fulfilling the duties and responsibilities of an entry-level roustabout requires attention to detail, teamwork, communication skills, and the ability to memorize and follow safety regulations.
List of Topics to Prepare
The level of the interview will directly depend on the experience you have, followed by the qualification and work skill. However, if the candidate is an experienced person, the process can tricky and technical to test the applicant's true abilities. There are many concepts that the interviewer can question you about, it usually revolves around these topics:
Knowledge of a high school diploma or GED
To complete accelerated roustabout training provided by community colleges and vocational schools
To complete an apprenticeship, an apprenticeship is a combination of on-the-job training and classroom instruction
Knowledge of Training for this role typically includes instruction on how to operate machinery,
Understanding of how to handle materials and how to perform basic maintenance tasks.
Understanding of training may also include instruction on safety procedures and regulations
Public Safety and Security— Knowledge of relevant equipment, policies, procedures, and strategies. That will promote effective local, state, or national security operations for the protection of people, data, property, and institutions.
Mechanical— Knowledge of machines and tools, including their designs, uses, repair, and maintenance.
Strength and dexterity– this role involves a significant amount of physical labor and the ability to operate in cramped, elevated, and uncomfortable spaces. So, roustabouts should be physically strong and dexterous
Physical and mental stamina– roustabouts also need a high level of physical and mental stamina to work shifts that can be longer than 12 hours for weeks at a time
Team coordination– roustabouts work with other roustabouts and roughnecks on rigs and drill sites. So, they should be able to effectively coordinate team member activities
Time management – this role also requires excellent time management skills, since roustabouts need to determine which tasks are most vital and set priorities throughout the day
Communication skills – roustabouts should also be effective verbal communicators in order to work with team members, coordinate activities, and ensure safety on the drill site
When interviewing for roustabouts' interview position, your interviewer will ask questions to assess your perform in regional knowledge and experience. The answers you give can be a deciding factor in whether you receive a job offer.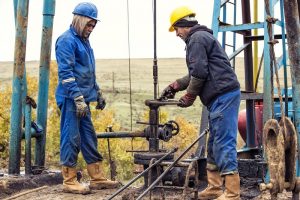 File Name: Roustabouts – Gas drilling industries
Alt-Text: Roustabouts perform a variety of manual tasks on oil and gas rigs to maintain site safety and support extraction operations.
Learn More about the Job                         
Anyone serious about landing a job or acing roustabouts' job interview should have adequate knowledge about the concepts mentioned above. More importantly, the applicant should know what kind of industries they are applying to and the nature of the job to prepare accordingly.
However, if you feel overwhelmed, get in touch with Pritish Kumar Halder to help you nail the interview. With his expertise in roustabout's interview preparation, from  roustabout's interview questions to advanced roustabout's interview questions, you'll have brilliant responses ready.
Get in touch with us today!
Composed by: Suma Sarker
Reference: