Any questions you want to practice should be geared towards your reliability, teamwork, and ability to follow instructions. Animal welfare organizations, animal protection groups, pet service providers, and conservation organizations should also be looking for motivation and enthusiasm for the specific position. You need to know some of the most common questions asked in interviews. Just taking a closer look with Pritish Kumar Halder in this article.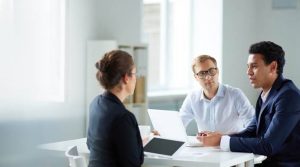 File Name: People-office-Recruitment
Alt-Text: people sitting in the office for an interview
Try practicing some of these common Animal Lawyer's job interview questions:
1. Why do you want this animal welfare lawyer job?
How to answer:  Again companies want to hire people who are passionate about the job. So, you should have a great answer about why you want the position. Firstly, identify a couple of key factors that make the role fit for you and then share why you choose the company.
Answer:  "I've always had affection for animals. But my real interest in animal issues started in high school when I got a little parrot named Chaplin as a pet. My relationship with Chaplin was pretty formative, and it opened my eyes to the complexity and individual personality of each animal. When I got to college, I read Peter Singer's book Animal Liberation. That got me thinking about animal issues more deeply and philosophically. I decided I could probably do more good for animals as an attorney. So I went to Stanford Law School and became involved with the Animal Legal Defense Fund. After I graduated, the Fund offered me a position, which I jumped on."
2. What do you feel are the biggest advancements made in animal law in recent years?
How to answer: Interviewers ask this question because they want to know how you continue to improve your skills and knowledge. They want to hire someone who works hard and learns how to become better in their position. Use this question as a chance to show them how you have made yourself more knowledgeable and skilled over the past year. And how you can use those skills to benefit their animal welfare.
Answer:  "Probably the single biggest advance is the growth of animal law as a legitimate discipline within law schools. Every new idea faces the challenge of making itself heard. And I think we've come a long way in doing that for animal law. 
On the litigation side of things, some important cases are owned. In [Animal Legal Defense Fund] v. Woodley, they used a little-known North Carolina law to rescue hundreds of dogs from a breeder and hoarder. They kept the animals in unimaginably inhumane conditions. Now, they've increased the amount of farmed animal cases we bring. Drawing attention to the cruelties associated with the production of meat, eggs, and dairy products. 
3. Do you think the laws that currently exist provide enough leverage for lawyers to adequately pursue animal protection cases?
How to answer:  The best way to answer a question about the challenge are you seeking is to discuss how would like to be able to effectively utilize your skills and experience if you were hired for the job.
Answer:   "I do believe there are some favorable laws that provide opportunities to improve the lives of animals. Despite the shortcomings I just mentioned, [the Animal Legal Defense Fund] has litigated and won plenty of cases over the years. Eventually, we've saved hundreds and hundreds of animals from deplorable conditions. So there are certainly opportunities to use existing laws to help animals. But, there is no question we need more of them. If we can continue to make social progress, I'm optimistic that legal progress will follow."
Not every question you will encounter when interviewing for Animal Lawyer's position will be related to promoting animal welfare-conserving wildlife and protecting an environment supportive job. But those are the common topics interviewer can ask for selecting qualified candidates.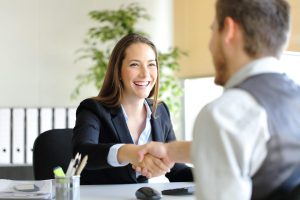 File Name: People-office
Alt-Text: Two People hand shaking in the office
Best Animal Lawyer's Interview Preparing Service
If you're feeling overwhelmed by the questions mentioned above, we get you. However, don't fret as you have Pritish Kumar Halder by your side. I am Animal Lawyer's job expert with special skills and help people prepare for all types of Animal Lawyer job interviews. Whether you need assistance in answering advanced Animal Lawyer's job interview questions or  Animal Lawyer's job interview questions, I can help you with all.
Get in touch for more information!
Composed by: Suma Sarker
Reference: