If you have a strong background in science and enjoy working with animals, then a career as an animal nutritionist may be for you.
An animal nutritionist specializes in the dietary needs of animals in captivity, such as pets, farm animals, and zoo animals. Their purpose is to promote and increase understanding of how an animal's diet can affect the animal's health, well-being, and productivity. For more information please visit Pritish Kumar Halder's page.

File Name: Animal nutritionists – Cow farm
Alt-Text: In Animal nutritionists create diets for several different types of animals, from birds and fish to mammals.
Animal nutritionists can work in a variety of environments such as farms, corporate research, development facilities, pharmaceutical companies, pet or livestock feed companies, federal government offices, laboratories, zoos, and wildlife rehabilitation facilities. The U.S. Bureau of Labor Statistics predicts job growth in line with the average for all occupations at a rate of 7 percent between 2016 and 2026.
Animal Nutritionist Interview: the Basics
Animal nutritionists are different than animal dieticians in that their work revolves around creating nutritional and lifestyle plans and menus for animals, rather than working from a strictly clinical aspect.
To be successful Animal nutritionists, are generally required to have a bachelor's degree, preferably in science. They should complete coursework on topics like chemistry, animal nutrition, mathematics, animal science, ration formulation, anatomy and physiology, and animal husbandry, among others.
Many colleges and universities offer programs in animal nutrition, which cover topics like nutrient metabolism, growth mechanisms, metabolic disorders, feed composition, animal physiology, molecular biology, and biochemistry. After a minimum of three years of experience, an animal nutritionist can be certified as a Licensed Animal Nutritionist, depending on location and program.
List of Topics to Prepare
The level of the interview will directly depend on the experience you have, followed by your qualification and work skills. However, if the candidate is an experienced person, the process can tricky and technical to test the applicant's true abilities. There are many concepts that the interviewer can question you about, it usually revolves around these topics:
agricultural, food, and sports sciences
agriculture (animal science)
animal management
animal production science
animal studies
animal welfare and behavior
animal/equine science
applied animal science
biochemistry
biomedical sciences
biosciences
dietetics and physiology
health sciences
public health nutrition
veterinary science
zoology
an understanding of the scientific basis of nutrition
familiarity with analyzing data and writing reports
the ability to conduct research in a safe, ethical and reliable manner
the capability to formulate and communicate ideas
the capacity to form long-term relationships with customers and clients
an appreciation of the interdisciplinary nature of science and the validity of others' viewpoints
business-management, time-management, and personal-development skills
advanced numeracy, IT, and internet skills
Drive, perseverance, dedication, and a willingness to work long hours.
When interviewing for an Animal nutritionist's interview position, your interviewer will ask questions to assess you're performance in regional knowledge and experience. The answers you give can be a deciding factor in whether you receive a job offer.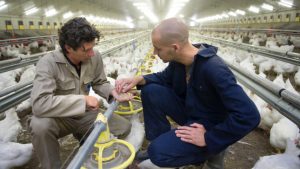 File Name: Animal lawyer – Chickens farm
Alt-Text: Animal nutritionists must keep in mind the nutritional needs and taste preferences of the animal for which they are formulating food.
Learn More about the Job                         
Anyone serious about landing a job or acing an Animal nutritionist's job interview should have adequate knowledge about the concepts mentioned above. More importantly, the applicant should know what kind of industries they are applying to and the nature of the job to prepare accordingly.
However, if you feel overwhelmed, get in touch with Pritish Kumar Halder to help you nail the interview. With his expertise in Animal nutritionist interview preparation, from  Animal nutritionist interview questions to advanced Animal nutritionist interview questions, you'll have brilliant responses ready.
Get in touch with us today!
Composed by: Suma Sarker
Reference: