Any questions you want to practice should be geared towards your reliability, teamwork, and ability to follow instructions. Various corporations across industries should also be looking for motivation and enthusiasm for the specific position. You need to know some of the most common questions asked in interviews. For further information, you can contact Pritish Kumar Halder.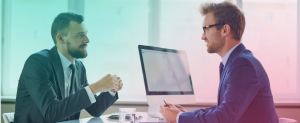 File Name: People-office-Recruitment
Alt-Text: people sitting in the office for an interview
Try practicing some of these common CIOs job interview questions:
1. Name Any 3 Books That You Recommend To People Who Want To Pursue CIO As Career.
How to answer:  When they ask this question, interviewers are testing your knowledge of informational figures and trying to learn more about your background and values as a CIO. Be sure to research the most influential books to your career and explain why they have been influential on and significant in your career.
Answer:  "There must be tons of books out there that are designed to enhance your leadership qualities, help you communicate the value of IT, and give you practical skills to improve your IT department. My favorites have been:
World Class IT: Why Businesses Succeed When IT Triumphs by Peter A. High- Talks about how an effective IT system can help enterprises grow and succeed.
CIO Best Practices: Enabling Strategic Value with Information Technology by Joe Stenzel, Gary Cokins, Karl D. Schubert, and Michael H. Hugos. – It shares details of indispensable leadership strategies and responsibilities for enterprises of all sizes and industries.
Adventures of an IT Leader by Robert D. Austin, Richard L. Nolan, and Shannon O'Donnell. – It talks about the challenges and rewards of bridging the gap between IT and the rest of the enterprise."
2. In Your Opinion, What Is the Most Important Part of a CIO's Job?
How to answer:   This is one of the most common questions you will be asked. Answer relevant to the skills and qualities relevant to the position you are applying to. The interviewer is trying to find if your match the job. For example, if you are applying for a job as a CIO where accuracy is an important issue, one of your strengths could be that you have an eye for detail.
Answer:  "70% of the job description for the CIO is to help direct the company toward technological preparedness. With this responsibility, CIO should be researching the development of new systems, hardware, and applications to stay updated in the IT field.  With the leadership on implementing future technology at work, CIO should lead the company that can take the best advantage of the technology. The CIO should be well informed about the market intelligence and trends that are evolving in the IT sector."
3. What Are The 3 Ways For Planning Acquisitions That Is Critical To Address The Systems And Technology?
How to answer:  This question requests a specific situation in which you had to solve a problem at work. When answering, it's important to discuss your problem-solving skills and the specific actions you took to overcome the problem. Use the star technique when answering behavioral questions. This is a method of answering interview questions that include a situation, task, action, and result.
Answer:
" Evaluate the systems and infrastructure of the acquiring company to ensure they will support the acquisition,
Evaluate the systems, infrastructure, and IT personnel of the acquisition and
Create a transition plan to merge the systems, processes, and personnel."
Not every question you will encounter when interviewing for a CIOs position will be related to management information systems (MIS) supportive job. But those are the common topics interviewer can ask for selecting a qualified candidate.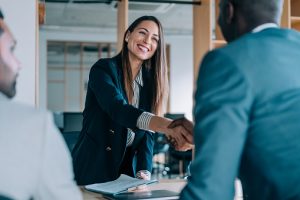 File Name: People-office
Alt-Text: Two People hand shaking in the office
Best CIOs Interview Preparing Service
If you're feeling overwhelmed by the questions mentioned above, we get you. However, don't fret as you have Pritish Kumar Halder by your side. I am a CIOs job expert with special skills and help people prepare for all types of CIO job interviews. Whether you need assistance in answering advanced CIO job interview questions or  CIO job interview questions, I can help you with all.
Get in touch for more information!
Composed by: Suma Sarker
Reference: