A Veterinary Technician, or Clinical Veterinary Technician, is responsible for performing routine checkups and other medical procedures on animals to ensure their health and well-being. Their duties include communicating with pet owners to determine whether their pet experienced changes in activity or diet, checking an animal's weight, heartbeat and other vitals to record in patient files and assisting other veterinary personnel in taking blood samples or administering medications.
For more information please visit Pritish Kumar Halder's page.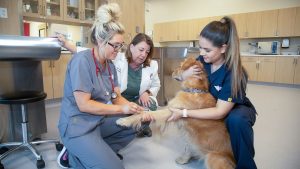 File Name: Veterinary technicians – Private clinics
Alt-Text:  Veterinary technologists and technicians are responsible for the careful and humane handling of laboratory animals.
They work in private clinics, laboratories, and animal hospitals. Their jobs may be physically or emotionally demanding. Employment of veterinary technologists and technicians is projected to grow 15 percent from 2020 to 2030, faster than the average for all occupations.
Veterinary technician' Interview: the Basics
Veterinary technicians work closely with other Veterinary Technicians, Veterinarians and front desk staff to oversee pet checkups or more in-depth medical care. Their job is to take x-rays or perform ultrasounds, update patient records, administer vaccinations and speak with pet owners about how to best care for their animals. They may also be responsible for helping schedule pet check-ups and sending reminders to owners as needed.
Looking out for these requirements will help you attract a knowledgeable and trained Veterinarian. Before joining veterinary school, an individual may have a pre-veterinary degree such as a 4-year bachelor's degree in veterinary technology. Courses typically include learning basic nursing care for animals, anatomy and physiology of animals, veterinary pathology, biochemistry, anesthesia and surgical nursing.
The level of the interview will directly depend on the experience you have, followed by the qualification and work skill. However, if the candidate is an experienced person, the process can tricky and technical to test the applicant's true abilities.
List of Topics to Prepare
A Veterinary Technician should have experience working in a variety of settings that focus on the care of animals. There are many concepts that the interviewer can question you about. While the level of questions does depend on the experience of the candidate, it usually revolves around these topics:
Knowledge of a 4-year bachelor's degree in veterinary technology
Knowledge of courses include learning basic nursing care for animals,
Understanding of anatomy and physiology of animals,
Understanding of veterinary pathology,
Knowledge of biochemistry,
Knowledge of anesthesia,
Understanding of surgical nursing,
Understanding of the American Veterinary Medical Association(AVMA) accredits veterinary technology programs
To pass the Veterinary Technician National Examination(VTNE)
Observe the behavior and condition of animals
Provide nursing care or emergency first aid to recovering or injured animals
Bathe animals, clip nails or claws, and brush or cut animals' hair
Restrain animals during exams or procedures
Administer anesthesia to animals and monitor their responses
Take x rays and collect and perform laboratory tests, such as urinalyses and blood counts
Prepare animals and instruments for surgery
Administer medications, vaccines, and treatments prescribed by a veterinarian
Collect and record animals' case histories
When interviewing for Veterinary technician's interview position, your interviewer will ask questions to assess your perform in related knowledge and experience. The answers you give can be a deciding factor in whether you receive a job offer.
Learn More about the Job
Anyone serious about landing a job or acing Veterinary technician's interview should have adequate knowledge about the concepts mentioned above. More importantly, the applicant should know what position they are applying to and the nature of the job to prepare accordingly.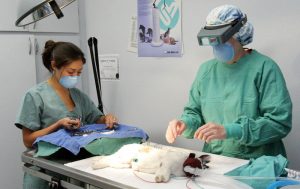 File Name: Veterinary technicians – Animal hospital
Alt-Text: Veterinary technologists and technicians must handle animals, medical instruments, and laboratory equipment with care.
However, if you feel overwhelmed, get in touch with Pritish Kumar Halder to help you nail the interview. With his expertise in Veterinary technician's interview preparation, from core Veterinary technician's interview questions to advanced Veterinary technician's interview questions, you'll have brilliant responses ready.
Get in touch with us today!
Composed by: Suma Sarker
Reference: