Any questions you want to practice should be geared towards your reliability, teamwork, and ability to follow instructions. Hospitals and outpatient surgical centers should also be looking for motivation and enthusiasm for the specific position. You need to know some of the most common questions asked in interviews.
Try practicing some of these common anesthesiologist related job interview questions with Pritish Kumar Halder.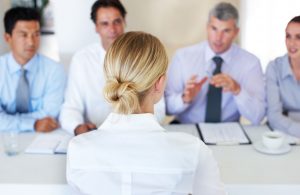 File Name: People-office-Recruitment
Alt-Text: people sitting in the office for an interview
Try practicing some of these common Anesthesiologist's job interview questions:
1.         Why did you choose to become an anesthesiologist?
How to answer:  Ideally, you'll want to look for someone who has a response that doesn't have to do with how much the job pays or the flexibility of the schedule. The candidate should display what they think makes anesthesiology such an interesting career since someone who is intrinsically invested in their job is likely to make a better employee.
Answer:  "I became an anesthesiologist because science fascinates me, and I don't like to see people suffer. I view my job as a way to alleviate some of the suffering patients go through."
2.         After general anesthesia for a surgery, how do you determine that a patient can be sent home?
How to answer:   Many sedatives can have effects on the patient long after the surgery is over. Your candidate should be familiar with the signs that a patient has safely regained consciousness as well as the signs that they are not doing so well. They should also express that they would ensure the patient's safety after they have regained consciousness.
Answer:  "I closely monitor the patient until they regain consciousness, and then I make sure they don't get up too quickly. I then determine whether they need pain medication. Before I tell them they can go home, I ensure they know what to expect and how to take care of themselves."
3.         What do you do when your patient is nervous about their upcoming surgery?
How to answer:  A large part of the anesthesiologist's job has to do with dealing with the emotions of their patients. Look for a candidate who displays empathy and who understands what a difficult time this may be for the person going in for surgery. An anesthesiologist who can soothe the patient's fears before the surgery is more likely to ensure that the patient is in a good state of mind to heal when they wake from the anesthetic.
Answer:   "I know that patients are often scared before the surgery, so I let them talk and ask their questions as much as possible. I'll explain a bit about what I'm going to do and tell them that I'll be by their side during the whole procedure."
Not every question you will encounter when interviewing for an Anesthesiologist's position will be related a to health service supportive job. But those are the common topics interviewer can ask for selecting a qualified candidate.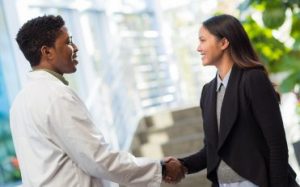 File Name: People-office
Alt-Text: Two People hand shaking in the office
Best Anesthesiologist's Interview Preparing Service
If you're feeling overwhelmed by the questions mentioned above, we get you. However, don't fret as you have Pritish Kumar Halder by your side. I am Anesthesiologist's job expert with special skills and help people prepare for all types of Anesthesiologist job interviews. Whether you need assistance in answering advanced Anesthesiologist's interview questions or core Anesthesiologist's interview questions, I can help you with all.
Get in touch for more information!
Composed by: Suma Sarker
Reference: