Any questions you want to practice should be geared towards your reliability, teamwork, and ability to follow instructions. School buses, Shuttle and chauffeurs, Taxi and ride-hailing, Transit, and intercity bus company should also be looking for motivation and enthusiasm for the specific position. You need to know some of the most common questions asked in interviews. Read the full article of Pritish Kumar Halder, in which he discusses some common Passenger Vehicle Driver's job interview related questions.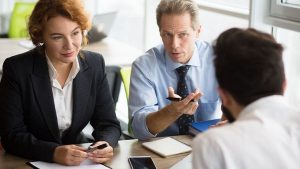 File Name: People-office-Recruitment
Alt-Text: people sitting in the office for an interview
Try practicing some of these common Passenger Vehicle Driver's job interview questions:
1.    You've picked up students at the end of the school day and are starting your bus route when you come across major traffic. You haven't moved for five minutes. How do you react?
How to answer:  School bus drivers are responsible for communicating schedule delays to keep school officials and parents from worrying about their lateness. This question allows interviewers to gauge a candidate's response to schedule delays and helps them learn more about their social awareness.
Answer:  "I would contact my supervisor or the school directly to communicate the situation so they can let the parents know. Both parents and administrators need to understand where the children are at all times."
2. Why do you want to work in our company as a Bus Driver?
How to answer:   This question gives details about the applicant's motivation for joining your company. It also tells you how passionate and enthusiastic they're about working as a Bus Driver for your company. They should research about your company to get some reasons of preferring your company over others.
Answer:  "I want to work for your company because you strive to provide excellent service to passengers while ensuring compliance with all traffic rules and regulations. I prefer providing a safe trip to passengers, and I feel your work culture matches my work ethic. Also, I'm looking for a flexible work schedule and long-term employment opportunity."
3. Have you ever had an accident while driving a bus? How did you deal with it?
How to answer:  When driving a bus, the safety of passengers should be the topmost priority of Bus Drivers. Look for answers that showcase the applicant's attitude towards passenger safety.
Answer:   "At my last job, I was involved in an accident where a sedan collided with the bus at a red light. Instead of panicking, I first checked on the well-being of the passengers and then called for help for passengers who were injured. After ensuring the safety of all passengers, I called the Police and reported the matter to my supervisor."
Not every question you will encounter when interviewing for Passenger Vehicle Driver's position will be related to ensuring safety and transporting passengers' supportive jobs. But those are the common topics interviewer can ask for selecting qualified candidates.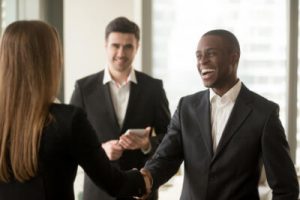 File Name: People-office
Alt-Text: Two People hand shaking in the office
Best Passenger Vehicle Driver's Interview Preparing Service
If you're feeling overwhelmed by the questions mentioned above, we get you. However, don't fret as you have Pritish Kumar Halder by your side. I am Passenger Vehicle Driver's job expert with special skills and help people prepare for all types of Passenger Vehicle Driver's job interviews. Whether you need assistance in answering advanced Passenger Vehicle Driver's job interview questions or  Passenger Vehicle Driver's job interview questions, I can help you with all.
Get in touch for more information!
Composed by: Suma Sarker
Reference: