Any questions you want to practice should be geared towards your reliability, teamwork, and ability to follow instructions. Church congregations across a wide range of Christian denominations should also be looking for motivation and enthusiasm for the specific position. You need to know some of the most common questions asked in interviews. Read Pritish Kumar Halder's article and get complete information youth pastor's interview.
File Name: People-office-Recruitment
Alt-Text: people sitting in the office for an interview
Try practicing some of these common Youth Pastors' job interview questions:
1.    Why do you want to be a youth pastor at this church?
How to answer:  An interviewer might ask you this question to determine whether you're a good fit for the congregation's needs. Hiring teams might prefer candidates whose goals match the congregation's priorities, such as expanding the youth program or becoming active in the community. When you answer this question, reflect on what you know about the congregation and connect their mission to your own goals.
Answer:  "I want to be a youth pastor at Martindale Avenue Christian Church because I believe in the church's mission to teach spirituality and service to its children and youth. Although I'm from a different state, I grew up in the same church denomination and have always been familiar with this congregation's reputation for social activism and charity, which are two of my most important values. I want to use my faith and energy to nurture the next generation and help them develop their own spiritual identities."
2.    What are some activities you use to help young people grow in their faith?
How to answer:   An interviewer might ask this question to learn about your previous experience in youth ministry. Providing specific examples of youth ministry techniques can show the interviewer that you have the skills to be successful in this position. When you answer this question, give specific examples and explain how these activities help young people.
Answer:  "I believe that an effective youth minister uses a range of activities to engage members of their youth group and Bible classes. Every young person has their own unique spiritual needs, and I like to give them lots of examples to choose from. For example, some teens find journaling to be a spiritual activity, so I teach them how to reflect silently and write about their thoughts and feelings. Others prefer to talk about Bible stories and current events with each other, so I always leave time for a free discussion during classes or meetings."
3.    How might you encourage young people to attend youth group meetings and events?
How to answer:  One measure of a youth program's success is the number of children and teens who attend meetings, services, and trips. An interviewer might ask this question to learn about your promotional skills, which can increase attendance at youth events. When you answer this question, provide examples of specific actions you might take.
Answer:   "I try to understand what the young people in my congregation care about and connect that to the youth program's goals. This strategy involves developing different curricula for children and teenagers, so they can have age-appropriate materials and activities. For example, children in the congregation might enjoy being active and learning about Bible stories through games and crafts, while teenagers might be more interested in using discussions to relate their faith to their relationships, goals, and passions. Usually, I create flyers or brochures that tell youth and their parents what the youth program includes for each age group."
Not every question you will encounter when interviewing for Youth Pastor's position will be related to helping the youth in their congregation develops a faith-supportive job. But those are the common topics interviewer can ask for selecting a qualified candidate.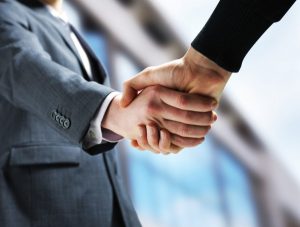 File Name: People-office
Alt-Text: Two People hand shaking in the office
Best Youth Pastor's Interview Preparing Service
If you're feeling overwhelmed by the questions mentioned above, we get you. However, don't fret as you have Pritish Kumar Halder by your side. I am Youth Pastor's job expert with special skills and help people prepare for all types of Youth Pastor's job interviews. Whether you need assistance in answering advanced Youth Pastor's job interview questions or Youth Pastor's job interview questions, I can help you with all.
Get in touch for more information!
Composed by: Suma Sarker
Reference:
https://www.indeed.com/career-advice/interviewing/youth-pastor-interview-questions