Passenger vehicle drivers are the people who transport passengers around the country's roads, offering a huge public service in the process. If road safety and mastering different routes are of interest to you, becoming a bus driver would be a great way to make sure your interests are reflected in your profession!
They are responsible for transporting passengers from one location to another. They must be knowledgeable about the area they serve and able to navigate it safely and efficiently. This is a job that requires attention to detail, strong communication skills, and an ability to multitask effectively. The following are examples of types of passenger vehicle drivers: School bus drivers, Shuttle drivers and chauffeurs, Taxi and ride-hailing drivers, Transit and intercity bus drivers.
For further information, you can contact Pritish Kumar Halder.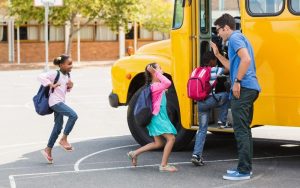 File Name: School bus driver – children
Alt-Text: Some school bus drivers make multiple trips if schools in the district open at different times.
They operate buses, taxis, and other modes of transportation to take people from place to place. Overall employment of passenger vehicle drivers is projected to grow 25 percent from 2020 to 2030, much faster than the average for all occupations.
Passenger Vehicle Drivers' Interview: the Basics
To become a bus driver, you need to train for and then pass the Passenger Carrying Vehicle (PVC) license, and then the Driver's Certificate of Professional Competence, although depending on the company you choose to work for, this can be made into part of your training and is therefore often paid for.
Bus drivers typically need a high school diploma or equivalent. Other types of passenger vehicle drivers typically do not need any formal education; however, many of these drivers have a high school diploma or equivalent. Bus drivers typically get 1 to 3 months of on-the-job training.
To be successful Passenger vehicle drivers usually need to have a clean driving record and may be required to pass a background check; they also might need to meet physical, hearing, and vision requirements.
List of Topics to Prepare
The level of the interview will directly depend on the experience you have, followed by the qualification and work skill. However, if the candidate is an experienced person, the process can tricky and technical to test the applicant's true abilities. There are many concepts that the interviewer can question you about, it usually revolves around these topics:
Knowledge of a high school diploma or GED to be a taxi driver
Knowledge of a city-approved training course
Learn the basics of being a taxi driver
Understanding of local geography
Understanding of safety procedures and how to use the taxi meter.
Learn the basics of on-the-job training include learning the specific routes and fares for the taxi company
Knowledge of a brief overview of the local area, including the major streets and landmarks
Required at least twenty-one years of age and possess at least one year of driving experience under a valid driver's license
Need a current car insurance policy and vehicle registration policy, as well as a four-door vehicle for passenger trips
Pick up and drop off passengers at designated locations
Follow a planned route or drive to a requested destination
Help passengers, including those with disabilities, get into and out of the vehicle
Obey traffic laws and state and federal transit regulations
Follow procedures to ensure passenger safety
Keep passengers informed of possible delays
Maintain vehicle by checking tires, lights, and oil
Keep the vehicle clean and presentable
Help passengers load and unload belongings
When interviewing for Passenger vehicle driver's interview position, your interviewer will ask questions to assess your perform in regional knowledge and experience. The answers you give can be a deciding factor in whether you receive a job offer.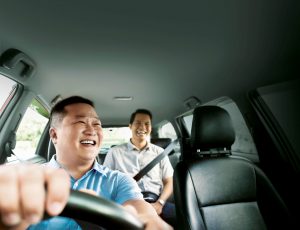 File Name: Taxi driver- passenger
Alt-Text: Intercity bus drivers transport passengers between cities or towns.
Learn More about the Job                         
Anyone serious about landing a job or acing Passenger vehicle driver's job interview should have adequate knowledge about the concepts mentioned above. More importantly, the applicant should know what kind of industries they are applying to and the nature of the job to prepare accordingly.
However, if you feel overwhelmed, get in touch with Pritish Kumar Halder to help you nail the interview. With his expertise in Passenger vehicle driver's interview preparation, from  Passenger vehicle driver's interview questions to advanced Passenger vehicle driver's interview questions, you'll have brilliant responses ready.
Get in touch with us today!
Composed by: Suma Sarker
Reference: