Solar panel installers may also be known as solar photovoltaic installers or PV installers. They are specifically trained to work with solar panels and the systems involved in converting solar power into electricity. Solar panel installers are responsible for mounting panels on roofs or other appropriate structures. In some cases they may also be responsible for connecting the panels to the power grid. They must follow all applicable regulations concerning the installation of this type of equipment.
For detailed information contact Pritish Kumar Halder.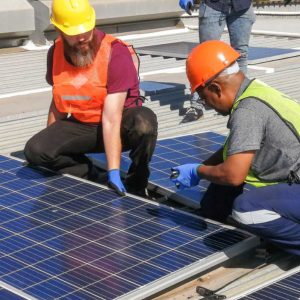 File Name: Solar photovoltaic installers –Buildings roof
Alt-Text:  Most photovoltaic installers learn on the job working with experienced installers.
Most solar panel installations are done outdoors, but PV installers sometimes work in attics and crawl spaces to connect panels to the electrical grid. Installers also must travel to jobsites. Employment of solar photovoltaic installers is projected to grow 52 percent from 2020 to 2030, much faster than the average for all occupations.
Solar Photovoltaic Installer Interview: the Basics
Solar photovoltaic installers typically have a background in construction or as electricians. There is currently no formal training standard for solar installers.
If you're interested in becoming a Solar photovoltaic installer, one of the first things to consider is how much education and training you need. The standard requirement is to have a high school diploma or GED. Up to one year of on-the-job training may equip some to work as a solar panel installer. Others may choose to complete postsecondary programs, which can range from short-term training to several months of study. With prior experience as an electrician or construction worker, it is also possible to complete training online. Certification is optional, although it may be an asset for those seeking work in this field.
The level of the interview will directly depend on the experience you have, followed by the qualification and work skill. However, if the candidate is an experienced person, the process can tricky and technical to test the applicant's true abilities.
List of Topics to Prepare
Solar panel installers must have strong technical skills and knowledge of their craft. There are many concepts that the interviewer can question you about. While the level of questions does depend on the experience of the candidate, it usually revolves around these topics:
Knowledge of a high school diploma or GED
Understanding of courses range from basic safety and PV knowledge to system design, takes a few days to several months
With construction experience, enhances the field by taking online training courses
To learn their trade on the job by working with experienced installers
To learn about safety, tools, and PV system installation techniques on-the-job training that usually lasts between 1 month and 1 year
Completing photovoltaic-specific training modules through apprenticeships may help
Knowledge of training usually includes a system overview and proper installation techniques for the manufacturer's products
Experience of military veterans may benefit from the Solar Ready Vetsprogram
With experience as an electrician, roofer, carpenter, or laborertypically already understand and can perform basic construction duties
Certification of the Electronics Technicians Association, International (ETA) and the North American Board of Certified Energy Practitioners demonstrates competency in solar panel installation
Plan PV system configurations based on customer needs and site conditions
Measure, cut, and assemble the support structure for solar PV panels
Install solar modules, panels, and support structures according to building codes and standards
Connect PV panels to the electrical system
Apply weather sealant to equipment being installed
Activate and test PV systems
Perform routine PV system maintenance
When interviewing for Solar photovoltaic installer's interview position, your interviewer will ask questions to assess your perform in regional knowledge and experience. The answers you give can be a deciding factor in whether you receive a job offer.
Learn More about the Job
Anyone serious about landing a job or acing solar photovoltaic installer's interview should have adequate knowledge about the concepts mentioned above. More importantly, the applicant should know what position they are applying to and the nature of the job to prepare accordingly.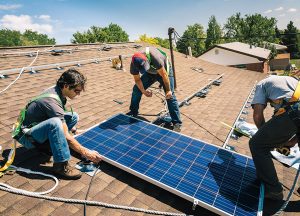 File Name: Solar photovoltaic installers – Residential area
Alt-Text: Solar photovoltaic installers usually work as part of a team.
However, if you feel overwhelmed, get in touch with Pritish Kumar Halder to help you nail the interview. With his expertise in solar photovoltaic installer's interview preparation, from core solar photovoltaic installer's interview questions to advanced solar photovoltaic installer's interview questions, you'll have brilliant responses ready.
Get in touch with us today!
Composed by: Suma Sarker
Reference: