Have you ever met a lawyer who only works for animals? Yes, it's true, Joyce Tischler, who is known as "The Mother of Animal Law." In 1979, Joyce founded the Animal Legal Defense Fund (ALDF) to advocate for abused animals.  If you feel strongly about the treatment of animals in our society, then a career in animal welfare law can be extremely rewarding.
An animal rights lawyer is a licensed practitioner of law who specializes in cases involving animal welfare. Animal rights lawyers are experts at resolving disputes involving pets, livestock, or animal habitats. They work for individual clients and for organizations that promote animal welfare, conserve wildlife, or protect the environment.
For further information please visit Pritish Halder's page.
File Name: Animal lawyers – Dog
Alt-Text: In addition to protecting animals, Joyce's passions include teaching the next generation of animal lawyers, and empowering young women entering the legal field.
Animal lawyers may be hired by animal welfare organizations, animal protection groups, pet service providers, conservation organizations, or individual clients. The U.S. Bureau of Labor Statistics predicts job growth in line with the average for all occupations at a rate of 4% per year through 2029.
 Animal Lawyer's Interview: the Basics
An animal lawyer will advise clients, research cases, review and prepare legal documents, conduct depositions, create pet trusts, argue cases in court, and file class-action lawsuits. They may also publish case studies in journals dedicated to the study of animal law.
To be a successful Animal lawyer, they usually complete a four-year undergraduate degree to prepare for law school. Undergraduate studies could be focused on animals, such as animal sciences.  Some academic areas useful for pre-law students and relevant to animal rights include Philosophy, Criminal justice, Marine biology, and Environmental science.
This is in part because there are few opportunities to specialize. But also because animal welfare spans many different areas of law from trade, licensing, tort, crime, and administrative law. Whilst some lawyers specialize in animal (welfare) law. Traditionally their practices focus on areas such as public and regulatory law, dog law, and campaign-related law.
List of Topics to Prepare
The level of the interview will directly depend on the experience you have, followed by your qualification and work skills. However, if the candidate is an experienced person, the process can tricky and technical to test the applicant's true abilities. There are many concepts that the interviewer can question you about, it usually revolves around these topics:
Education:
Required a four-year undergraduate degree to prepare for law school
Undergraduate studies could be focused on animals, such as animal sciences
Knowledge of animal rights includes: Philosophy, Criminal justice, Marine biology, Environmental science
Knowledge of the Law School Admission Test, or LSAT, will then need to be taken
Earn a Juris Doctor degree
Understand involving animal rights, research law programs with coursework, publications, or professional opportunities related to animal law
Certification:
lawyers must pass the bar examination to be eligible to practice in their state
Skills for animal rights lawyers:
Lawyers often seek expert legal opinions and research federal, state, or international law as necessary to argue their case.
Skilled argumentation requires high-level reasoning, thoughtful presentation, and understanding of your audience.
Many animal rights cases might involve highly emotional events, such as the death of a pet, requiring legal professionals who can be sympathetic and kind while performing their duties.
Collaboration skills help you achieve goals collectively by providing input and feedback, respecting coworkers, and fulfilling the expectations of your role.
When interviewing for an Animal lawyer's interview position, your interviewer will ask questions to assess you're performance in regional knowledge and experience. The answers you give can be a deciding factor in whether you receive a job offer.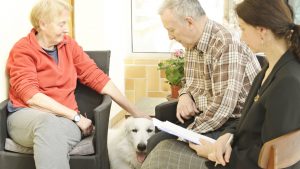 File Name: Animal lawyer – The dog's owner
Alt-Text: A senior citizen couple requiring legal professionals who can be sympathetic and kind while performing their duties.
Learn More about the Job                         
Anyone serious about landing a job or acing an Animal lawyer's job interview should have adequate knowledge about the concepts mentioned above. More importantly, the applicant should know what kind of industries they are applying to and the nature of the job to prepare accordingly.
However, if you feel overwhelmed, get in touch with Pritish Kumar Halder to help you nail the interview. With his expertise in Animal lawyer's interview preparation, from  Animal lawyer's interview questions to advanced Animal lawyer's interview questions, you'll have brilliant responses ready.
Get in touch with us today!
Composed by: Suma Sarker
Reference: